2001 World's Strongest Man winner, Svend Karlsen, the man who once said, "Never give me a microphone," turned 40 today, so if a masters' class starts in strongman, watch out.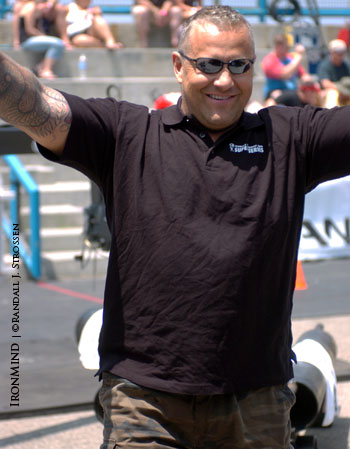 Svend Karlsen waves to some fans at the 2007 WSMSS Muscle Beach Grand Prix - it was still early in the morning, but we wonder if Svend asked Lene to iron the shirt just for this occasion? IronMind® | Randall J. Strossen, Ph.D. photo.

He's the guy who burst into an Elvis imitation after winning in Finland one year, and who challenged the world to stand up to terrorists while competing in St. Louis right after 9/11, and who went on to win World's Strongest Man later that year. Successfully making the transition from strongman competitor to businessman, Svend is currently rumored to be working on a new tanning product, in between designing the helipad he has offered to share with his neighbor.

Happy Birthday, Viking - enjoy your youth, because pretty soon you'll wish you were only 40!