The Vardanians and the Canadian Team: 12 More Good Reasons to See Weightlifting at the Arnold
IronMind® has just received confirmation that Canada will be sending a team of seven women and three men to lift at the Arnold, and that Norik Vardanian will be competing, with his father, the great Yurik Vardanian, there as his coach.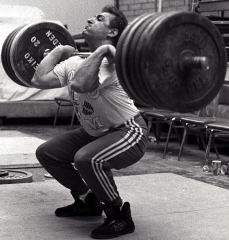 It was an extraordinary moment: In the warm-up room at the 1995 USA Weightlifting National Championships, Yurik Vardanian, who had finished coaching Lance Vermeil, started playing around with his old friend, the barbell. Dragomir Cioroslan jumped in, and before we knew it, both guys had cleaned and jerked 150 kg. Vardanian's impromptu lifting was the talk of the contest. IronMind® | Randall J. Strossen, Ph.D. photo (Fresno, California).
This news added to an already impressive list of entries, and Mark Cannella, co-director of the Arnold Weightlifting event, was extremely enthusiastic about the confirmation of the Canadian team and of the Vardanians: "Lifters recognize what the Arnold is," Cannella said, "and they want to be part of it."

Yurik Vardanian is on everyone's short list of the greatest weightlifters of all time, and his 400-kg total in the 82.5-kg category at the 1980 Moscow Olympics remains the magical mark lifters have since tried to equal, and his son, Norik, has created quite a buzz in the US weightlifting community, as he is a young lifter who shows exceptional promise.

For details on weightlifting, and the other events at the Arnold, please check the Arnold's official website.