The Sultan's Story: Hub-Style Pinch Gripping, Rules and Records
The first time I met Sultan Rakhmanov in person was in Istanbul in 1994, at the World Weightlifting Championships—later, when were in the hotel bar and Anatoli Pisarenko had bought a bottle of Chivas Regal for the table, we were going through Sultan's success as an arm wrestler, and even though he was injured from arm wrestling and needed surgery, he gave a Captains of Crush No. 3 gripper quite a ride, just for the fun of it.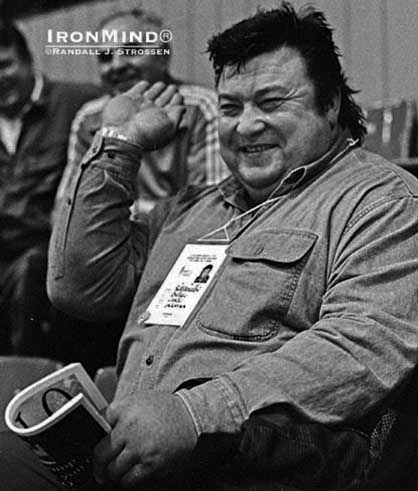 Olympic gold medalist in weightlifting, Sultan Rakhmanov was also well known for his grip strength and proficiency as an arm wrestler. Take a close look at his hand. IronMind® | Randall J. Strossen photo.


Earlier, in the competition hall, Sultan had held his hand palm up, to demonstrate its incredible thickness. "Like a baby's bottom," Pisarenko had said with a laugh, as I gaped.

Anyway, the Sultan story I want to tell you comes from MILO coverguy, Olympic weightlifter and two-winner of the World's Strongest Man contest, Bruce Wilhelm, who might not be on a word-count diet or think that stories about other people really are about other people, but at least when Bruce says he saw someone lift or not lift something, you can believer it.

Anyway, Bruce told me that when he was at the 1979 World Weightlifting Championships in (Thessaloniki, Greece), Sultan Rachmanov was squatting: he added 25-kg plates to the bar by grabbing them by the hub, lifting them from the floor and then slamming them on the bar. Bam, bam, bam This was not some limit feat of strength by a guy who specialized in this – this was just something done casually by a guy who not only was genuinely strong, but who also had the kind of hand strength that made just about everyone else look bad.

And in case this has inspired you to see how you fare on this classic test of grip strength, we've just posted the IronMind Hub rules and world records, so go ahead and add to the rich history of this lift.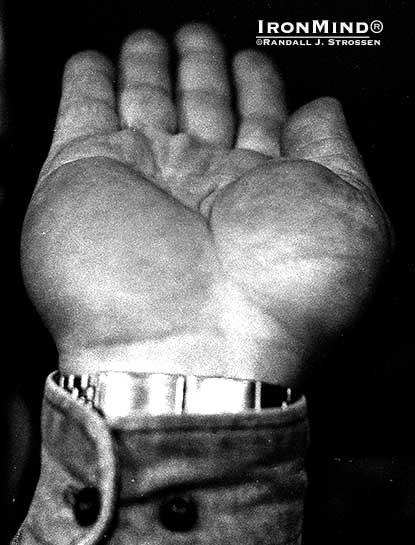 Ever see this much muscle in someone's hand? Olympic champion weightlifter Sultan Rakhmanov had more muscle mass in his hand than some people have in their forearms. IronMind® | Randall J. Strossen photo.

###

The IronMind Forum: discuss this article, talk strength, get help with your training.

You can also follow IronMind on Twitter and on Facebook.