The Safe Lift: World's Strongest Man Finals
Paradise Island, Bahamas - World's Strongest Man finals wrapped up the second day with the safe lift.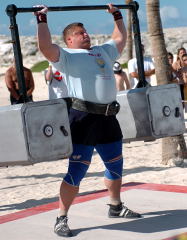 Zydrunas Savickas, pushing hard on the Safe Lift, at WSM 2004. IronMind® | Randall J. Strossen, Ph.D. photo.
Mention lifting safes and iron game historians might well think of Paul Anderson's hip lifts or back lifts, but at the 2004 World's Strongest Man contest, it meant an overhead lift using an apparatus like a yoke.

The lift began by getting under the bar as if you were lifting it off the racks for a front squat, and from there it was push pressed overhead. Each rep was done from the ground, and although the weight of was not announced, the chief difficulty seemed to be controlling the yoke's tendency to swing.

The action continues tomorrow, with two events scheduled, and then the last event on Sunday.