The Ronnie Coleman Grip Challenge
Why stop at promoting the grip contest at the Ronnie Coleman Classic, competing in it, not to mention winning the pro division?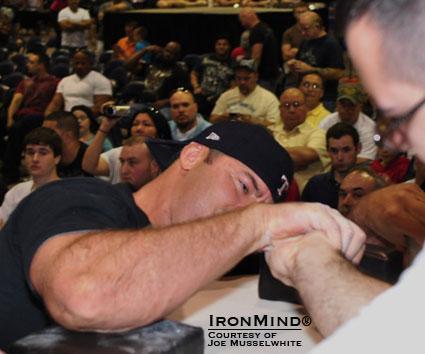 Paul Knight followed his victory in the pro class at the Ronnie Coleman Grip Challenge with such an impressive performance in the novice arm wrestling competition that he found it was a perfect way to recruit more grip strength enthusiasts. IronMind® | Courtesy of Joe Musselwhite.


IronMind thought this gave Paul Knight the perfect qualifications for reporting on the grip contest—and it was a sure way to gain an insider's view.

Incidentally, if there wasn't enough to keep Paul Knight busy on the grip side of things, he jumped into the novice arm wrestling competition and after mowing down the field both right and left handed, is it any surprise that he told IronMind, "I was very happy with how I did and blame it all on the grip training. A lot of arm wrestlers that were there want to come train grip with me now lol."


The 2011 Ronnie Coleman Grip Challenge
By Paul Knight

The 2011 Ronnie Coleman Classic was a great success. Fitness expos are a perfect platform for grip. The contest grabbed a lot of attention from passers bys which is exactly what the sport of grip needs, and with Brian Dobson's consent, I believe I will make this an annual event.

We chose the round system for how to run our contest and it proved to be a big timesaver. In addition, we went with three attempts instead of our usual four and as a result, the contest zipped by. I believe we were finished in less than 3 hours which is lightning fast for a grip contest and it gave the competitors a chance to enjoy the rest of the expo.

All the competitors did very well. Ross Love showed up very strong as usual. He hit a PR on the 2 hands pinch with a lift of 233.9 lb. and also won the Rolling Thunder event with a solid lift of 230.31 lb. Unfortunately, Ross scratched on the Vulcan event giving him zero points allowing quite a few competitors to edge him out (which is uncharacteristic of him).

I hit a PR on the 2 hands pinch of 230.8 lb., got a Level 21 Vulcan close and pulled 201.13 lb. on the IronMind Rolling Thunder for the win. Eric Milfeld brought his A game and pulled off second place in the Pro division and all of this while he helped out with judging. I think everyone can agree that Eric is one of the strictest judges out there and if you complete a lift while Eric is judging, you can guarantee the lift was perfect. Cody Musselwhite took third in the pros and is quickly building a name for himself. He is young and has a ton of time to become a top tier grip athlete if he continues the way he is going. Way to go Cody!!

Big thanks to IronMind for their continuing support and help with this contest; it is really appreciated. In addition, I would like to thank David Horne for his sponsorship and Joe Musselwhite for shooting the contest. He is an awesome photographer and is much appreciated as well.

Overall: Pro Division

1. Paul Knight
2. Eric Milfeld
3. Cody Musselwhite

Overall: Open Division

1. Mike Gile
2. Chris Dezendorf
3. Mike Love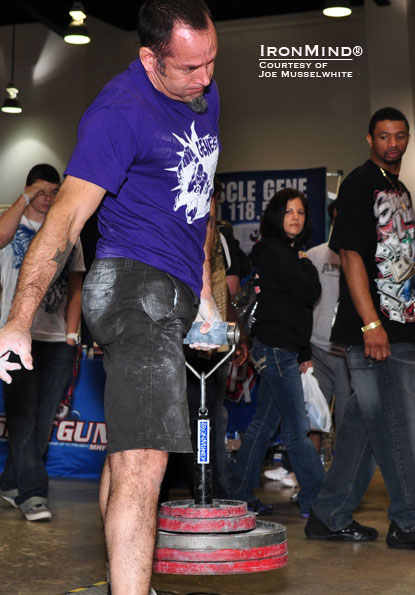 Shown on the Rolling Thunder®, Eric Milfeld produced big performances, placed second in the pro division, and burnished his image as rules-respecting referee. IronMind® | Courtesy of Joe Musselwhite.

###


IronMind Forum: Comment on this article, talk strength.

Follow IronMind on Twitter.