The Queens' Strongest Arm
Jason Vale, Mirline Berrouet and Mike Selearis won the Captains of Crush® Grippers Queensboro Strongest Arm titles this weekend: "The Queensboro Championships are a qualifying event for the Empire State Armwrestling Finals," New York Arm Wrestling Association (NYAWA) founder and president Gene Camp told IronMind® today, explaining what was at stake.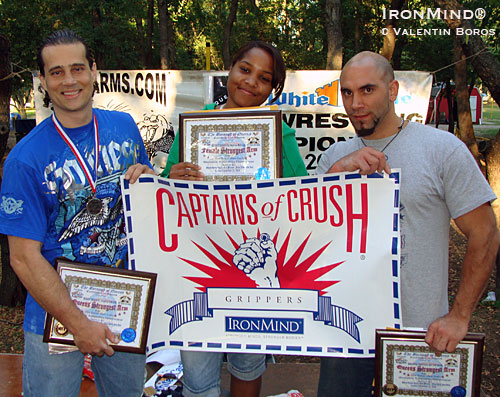 Shown at the award ceremony are the the winners of the Captain's of Crush® Queensboro Strongest Arms are (left to right) Jason Vale (Belleros, NY), Mirline Berrouet (So. Ozone Park, NY) and Mike Selearis (Elmhurst, NY). IronMind® | Valentin Boros photo/courtesy of Gene Camp/NYAWA.

"This was the New York Arm Wrestling Association's 32nd Annual White Castle 'Queensboro' Arm Wrestling Championships held at the Queens County Farm Museum's Annual County Fair," Camp said. In addition to being a qualifier for the year-end Empire State Arm Wrestling Finals, this is "the oldest of all the borough championships," said Camp.
The Queensboro Arm Wrestling Championships are part of the full program of arm wrestling matches and training sessions offered by the New York Arm Wrestling Association throughout the year, and the contests have been known to drawn such distinguished guests as New York Mayor Michael Bloomberg.