The Latest From John Brookfield and Steve Jeck
The latest edition of John Brookfield's "Grip Tip of the Month" and Steve Jeck's "From The Quarry" have just been posted, so be sure to take the time to read them and put their advice to use in your training.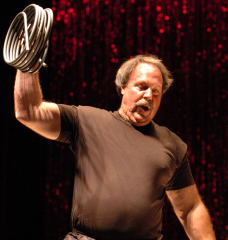 "It ain't no garden hose." John Brookfield provided the halftime entertainment at this past weekend's IRONMAN Pro (held at the FitExpo), and one of the things the master traditional strongman did was wind up a steel bar that was 20-feet 6-inches long and 1/2-inch in diameter - which he then popped into a US Priority Mail box, to prove how tightly it was coiled. IronMind® | Randall J. Strossen, Ph.D. photo.
John's advice is devoured by everyone looking for world-class grip strength, and to benefit yourself just follow this link or click on the John Brookfield's Grip Tip of the Month icon on the IronMind home page.

Steve Jeck has long had very special status at IronMind® as the resident philosopher in MILO, and to mull over Steve's latest piece, either click on the Steve Jeck's From the Quarry icon on the IronMind home page or follow this link.

Read, enjoy, implement and benefit from John Brookfield's and Steve Jeck's latest contributions.