The Jon Pall Sigmarsson Classic: Iceland 2010
Hjalti Arnason told IronMind® that he is working on a major event - the Jon Pall Sigmarsson Classic - that would bring top international strongman competitors as well as IPF powerlifters to Iceland as part of a multi-sport event set in the Land of Fire and Ice.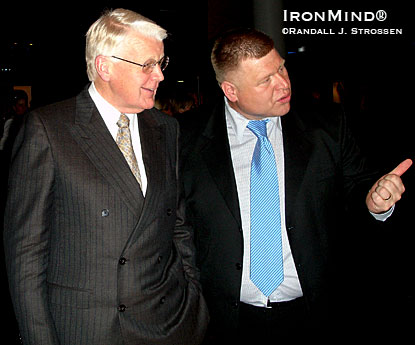 Icelandic president Olafur Ragnar Grimsson (left) was among the guests at the premiere of the Jon Pall Sigmarsson documentary in Reykjavik in 2006, telling you something about Hjalti Arnason's (right) ability to organize high-profile events. IronMind® | Randall J. Strossen photo.


IronMind® considers this to be good news for the strength world as Hjalti Arnason is uniquely qualified to put together something as special as this. Set in Iceland, an event like this could well become an international magnet as the former top-level strongman and powerlifter focuses his skills as a promoter on this developing project.

Incidentally, Hjalti Arnason's film on Jon Pall Sigmarsson was both a popular and a critical success, giving an indication of Arnason's ability to bring his passion for the strength world to broader markets.