The Jon Andersen MCing at OddE's FitExpo Events
"Good news . . . Jon Andersen will be the MC for both days!," Odd Haugen told IronMind today—referring to his strongman-mas wrestling-grip contest extravaganza at the NorCal FitExpo next month.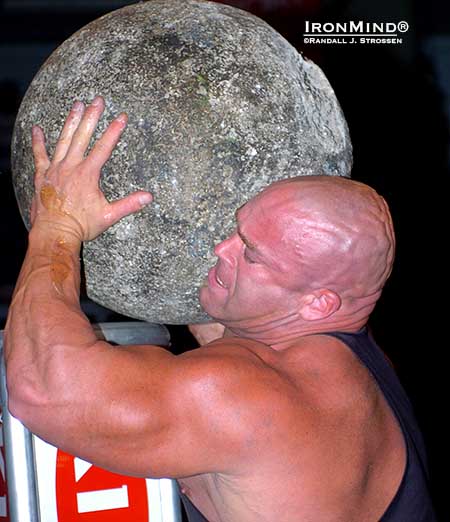 The Jon Andersen might be best known as a professional wrestler, but he was a formidable strongman competitor, too, and his trademark skull was the envy of shar peis worldwide, especially as it struck fear in the heart of big stones. Here, Jon unloads on the Atlas Stones at the 2004 World Muscle Power Championships, where he competed in a world class field that included Zydrunas Savickas, Magnus Samuelsson, Mariusz Pudzianowski, Vasyl Virastyuk, Raimonds Bergmanis, Jessen Paulin, Mark Philippi, Rene Minkwitz, Dominic Filiou, Geoffrey Dolan and Hugo Girard. IronMind® | Randall J. Strossen photo.


"Jon is dynamic and has a great deep voice. He was a great strongman and is currently a professional catch wrestler with international fame," Haugen said.

Here's a link to the 2013 NorCal FitExpo, and direct links to the strongman, mas wrestling and grip strength competitions, where the Jon Andersen will be calling the action.

See you there!


### 



The IronMind Forum: discuss this article, talk strength, get help with your training.

You can also follow IronMind on Twitter.