The Highlander Concept: A Strength Show to Feed Your Inner Warrior
Saying "the so-called traditionalists" are missing the target when they criticize the Highlander Games, Dr. Douglas Edmunds - the godfather of modern strongman - is quick to point to the ancient roots of warrior games, his model for the Highlander concept which melds strongman and the Highland Games, with a combat-oriented theme.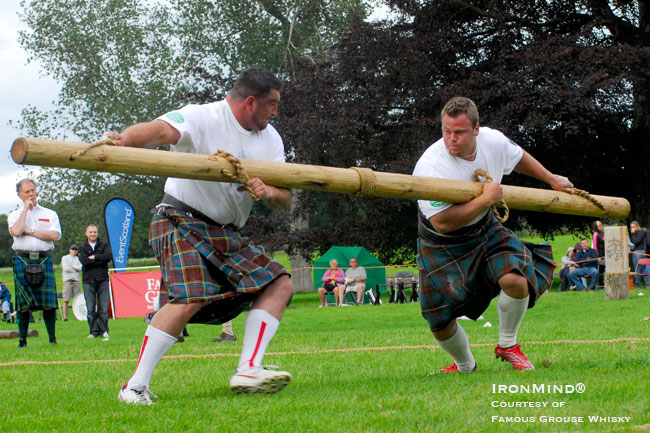 The Pole Push, shown here with Sebastian Wenta (left) and Johannes Arsjo (right), typifies the sort of challenge Douglas Edmunds has built into his Highlander concept. IronMind® | Photo courtesy of Famous Grouse Whisky.

"People in olden times didn't have a lot of fun . . . they were just survivors," as they focused on warrior-like tests and challenges when they were not engaged in actual combat, Edmunds told IronMind® today. "This isn't some silly thing farmers do," said Edmunds, referring to the classic Highland Games events such as throwing the heavy and light hammer. "This has depth to it." Think battle axes, mercenaries, jousting and the like to get in the proper frame of mind.

This year's Highlander World Championships with be held at Glenarm Castle in Northern Ireland, July 14 - 15, and the field includes such big names as Sebastian Wenta, Scott Rider, Gregor Edmunds, Mikhail Koklyaev, Kyrylo Chuprynin, Wout Zijlstra, Stefan Solvi Petursson and one or two top Americans, most likely sponsored by MET-Rx, Edmunds told IronMind®.
"MET-Rx have agreed to help sponsor this event, which we think will put a spotlight on the right American competitor," said Edmunds.