Not wasting any time framing the upcoming Mohegan Sun Grand Prix, Bill Kazmaier told IronMind®, "It's the greatest strongman event in recent history in America."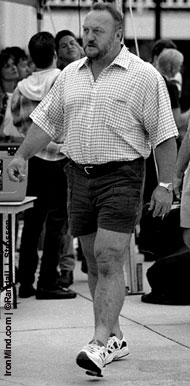 The cock of the walk: Bill Kazmaier at the 1997 US Strongest Man contest (Primm, Nevada). IronMind® | Randall J. Strossen, Ph.D. photo.

"The class of the field, the events, and the setting" all figured into the Kaz's assessment. "With every World's Strongest Man winner since 1997 except for Vasyl Viriastyuk competing," nothing else compares, said Kazmaier, modestly overlooking the fact that since he has just been named the emcee, the luster of the field has gone up yet another notch, as among other accomplishments, the Kaz won World's Strongest Man in 1980, 1981 and 1982.

Saying that he regards the competitors as being "kings of all that they survey," adding "it is their world," the Kaz was also quick to praise the Mohegan Sun Casino (Uncasville, Connecticut), both for the magnificent setting it provides and for the exceptional way it treats the competitors.

The Mohegan Sun Grand Prix is June 1 and it is part of the WSMSS, which is the qualification system for the 2006 World's Strongest Man contest.