The Gododdin Games . . . Looking for a Few Good Carnivores
Saying, "I want to do to the Highland Games what I did to strongman," Dr. Douglas Edmunds outlined the Gododdin Games he is launching this year.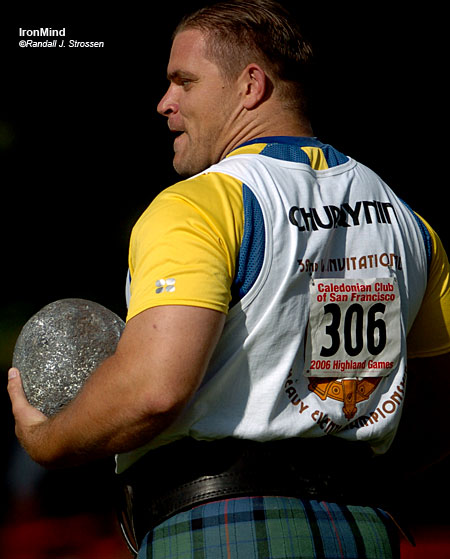 Kyrylo Chuprynin (Ukraine) comes to mind when considering the type of competitor Douglas Edmunds envisions for his Gododdin Games. IronMind® | Randall J. Strossen, Ph.D. photo.
Supported by Event Scotland, the Gododdin Games will build on the theme of a warrior culture from ancient times and while the field might not smell of burned flesh, if Edmunds has his way, the drama and spectacular of what unfolds will be quite unlike anything currently available.

"Strongman is a bit tired," Edmunds told IronMind®, explaining that he wanted to move beyond the concept of "a big fat guy who lifts weights," and tap into the near-mythic level of warriors from ancient times. With strongman "becoming a procession" and the Highland Games "being all about throwing," Edmunds wants to inject new life into a contest that combines what he sees as the best elements of the Highland Games and strongman, laced with a substantial "retro factor," and the gladatorial element of which Edmunds has always been fond. Edmunds said that he is looking for that "rare breed," the type of person "who would survive an old-fashioned war."

His concept, Edmunds explained, "is to reinvent the Highland Games and sex them up for television." Asked whether his plan would rankle Highland Games traditionalists, Edmunds said, "They should give me a great award, but that's up to them."

Edmunds said that the Gododdin Games will use "the IFSA distribution platform" and the kickoff event is scheduled for May 27 at Scotland's Blair Castle.