The FitExpo: Gaspari Nutrition All-American Strongman Challenge
Odd Haugen has confirmed the start list for FitExpo's Gaspari Nutrition All-American Strongman Challenge on January 24 - 25 in Los Angeles.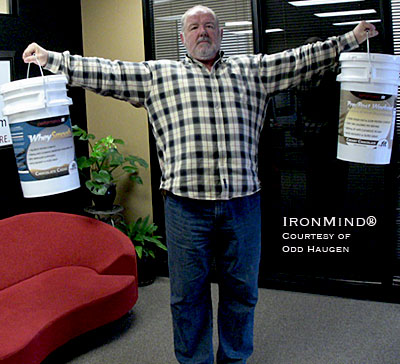 No one's likely to accuse dotFIT Chief Operating Officer Odd Haugen of micromanaging as he demonstrates the crucifix hold, an event that his company will be sponsoring at the 2009 FitExpo Gaspari Nutrition All-American Strongman Challenge. IronMind® | Photo courtesy of Odd Haugen.


Once again bringing strongman to the FitExpo, California's premier fitness exposition, Odd Haugen told IronMind® that besides continuing its tradition of presenting some of the top strongmen in the U.S., this contest serves as a gateway to a Super Series invitation, not to mention providing a US$4,000 payday for first place.

Here's the official list of competitors:

Travis Ortmayer
John Conner
Brian Shaw
Kevin Nee
Ryan Bakke
Pete Konradt
Josh Thigpen
Carl Foemmel
Marshall White
Nick Best

There's some major strongman talent in this group, as Travis Ortmayer, Brian Shaw, Kevin Nee and Josh Thigpen, for example, have all competed in the World's Strongest Man contest, and this contest will allow you to see some of the guys who have posted huge results in the past as well as those who are going to make a big splash this year.

The strongman action starts at 4:00 p.m. on Saturday, June 24, and for full details on the FitExpo, please visit the FitExpo website.