The Deadlift: World's Strongest Man Finals
Paradise Island, Bahamas - Continuing with its basic-lift theme today, the second event was the deadlift.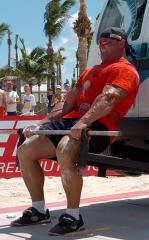 Defending WSM winner Mariusz Pudzianowski fights for position as he goes for broke in the deadlift. IronMind® | Randall J. Strossen, Ph.D. photo.

The deadlift today continued the power-oriented theme begun with the squat this morning, and the event took the familiar form of a truck deadlift for reps. The weight at the bar was announced as 315 kg and the object was simple: Pull for as many reps as you could within the time limit.

In a schedule change, a third event will be held later today: the overhead lift.