Texas World Highland Games: Sean Betz Wins . . . Or Was it Really Gregor Edmunds?
Continuing his tradition of bringing top Highland Games coverage to the IronMind® news column as well as to MILO®, Francis Brebner filed this report on the Texas Highland Games, which includes the eagerly awaited outcome of defending Highland Games World Champion Gregor Edmunds's bid to find a bride to bring back to Scotland.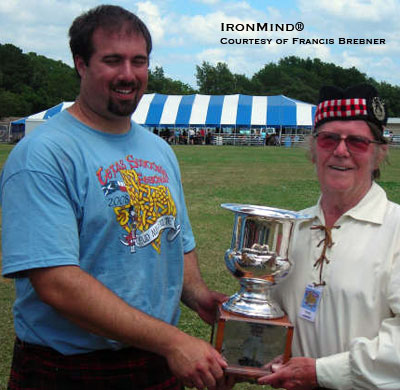 Sean Betz (left) accepts his championship trophy from David Webster, OBE. IronMind® | Photo courtesy of Francis Brebner.

Texas World Highland Games and "Who Will Date Gregor" by Francis Brebner

Records tumbled at the Texas World Highland Games, and no wonder with such an awesome line-up of athletes, including: Gregor Edmunds (Scotland), 2007 Highland Games world champion; Sean Betz (USA), 2008 Highland Games world champion; Larry Brock (USA), current World Scottish Hammer Throwing champion; Greg Hadley (Canada), current Canadian Highland Games champion; Harrison Bailey (USA), 2006 U.S. champion; Andrew Hobson (USA), former world amateur Scottish hammer record holder; and Mike Zolkowitz (USA ),who placed fifth in this year's World Highland Games Championships.

With a line-up like this, it was destiny that records would fall, and fall they did. In the first event of this two-day competition, the 22-lb. Braemar standing putt, the ground record had been set by Texan James Parman, with a distance of 43' 2", back in 2001. Edmunds came within one inch of breaking the ground record and was leading the group until Sean Betz landed a blitzing throw of 43' 8", establishing a new ground record and taking the first place spot from Edmunds. Mike Zolkowitz followed closely behind in third place, with 41' 1".

In the 28-lb. weight for distance, the ground record had been set at 85' 8" by Big Dave Brown in 2006, and this record was also ravaged as Betz tore it apart with a throw of 90' even. Larry Brock was in second place with 85' 3", and Edmunds was in third place, with 81' 11", which left the big Scotsman a little disgruntled as he knew he could have thrown a lot farther.

But in the 22-lb. hammer, it was Larry Brock who claimed his first win of the competition, with a throw of 113' 7", putting a squeeze on Betz's winning streak. Betz had to settle for second place, with 110' 1", and Bailey finished third, with 105' 7".

The caber was an open and shut case from the start: Edmunds, the current World Caber Tossing champion, showed great technique and timing and slammed home three perfect 12 o'clock tosses, sending out a message of "don't mess with the (caber-ya-ken) champion," a phase that Edmunds often uses. In second was Brock, with one 12 o'clock toss; and in third was Bailey, with an 11:30 toss.

Going into the weight over the bar, I knew that this was going to be a clash as there were so many great weight throwers, but I was surprised to see Bailey go out at the starting height of only 14'; and with the bar now at 15', it was Edmunds and Zolkowitz who shockingly also made a early exit from the competition.

With the bar now at 16', Hobson, Brock, and Betz all narrowly cleared the bar, and with the new height of 16' 6", only Betz made it, claiming yet another first place. Brock was in second place on count back over Hobson.

Going into the second day's competition, putting the 16-lb. shot, it was Betz showing no mercy and claiming another win with a distance of 53' 7", setting a new ground record. In second spot was Zolkowitz with 50' 4", and in third place was Bailey with 48' 8".

In the 56-lb. weight for distance, the record in this event was set in 2003 by Big Dave Brown, with a distance of 43' 8", and this was marginally broken by Brock, with a throw of 43' 11". This was closely followed by Bailey, in second place, with a notable throw of 42' 3". Betz was in third, with 40' 11".

The next record on the chopping block was the 16-lb. hammer, which was set by Canadian Harry MacDonald back in 1998, with a distance of 136' even. This record was chopped and then diced by both Brock and Betz, with Brock taking the first place win over Betz with 146' 7", and Betz coming in second place with 141' 10". Edmunds was third, with 134' 3", still making Brock the number one man to beat in the hammer.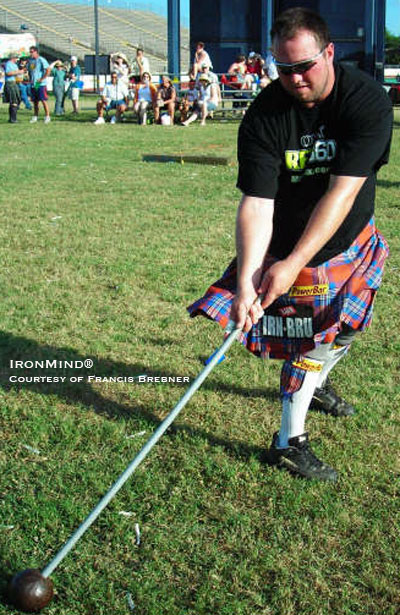 Larry Brock: "The number one man to beat in the hammer." IronMind® | Photo courtesy of Francis Brebner.

The challenge caber was by far one of the heaviest cabers ever to be attempted. Again it was Edmunds, with excellent timing and Herculean power, who tossed this mighty 17-ft. long and 180-lb. caber, which delighted the many thousands of spectators (and the Edmunds' groupies), with three 12 o'clock tosses, but what would you expect from a son of the twice World Caber champion Dougie Edmunds. In second place was Brock, showing real grit and determination and just narrowly tossing this daunting caber with one 12 o'clock toss, joining Edmunds in the monster caber tossing club.

Overall points places and points:

1. Sean Betz 15 points
2. Larry Brock 20
3. Gregor Edmunds 29
3. Harrison Bailey 30
4. Mike Zolkowitz 35
5. Andrew Hobson 38
6. Greg Hadley 58

As for Gregor Edmunds and his blind date in his quest to find true love, he had more than enough entries to have kept the big Scotsman in Texas a month longer or more.

I asked Gregor how he enjoyed the whole experience and if there was any chance of a possible romance with any of his Texas beauties. Edmunds replied, "I have had a great time and yes, there could be a possible chance of romance on the horizon, but I am not sure of which one as my Blackberry can't hold any more numbers at the moment."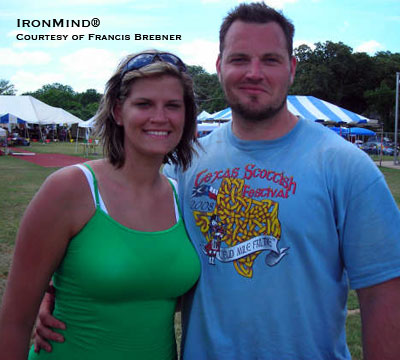 The lovely Amanda Perry and the irresistible Gregor Edmunds, who came to Texas in search of not just another Highland Games title, but also a bride. IronMind® | Photo courtesy of Francis Brebner.