Tex Henderson: Certifies on the No. 3 Captains of Crush Gripper and Makes History
Since Richard Sorin first did it in 1991, certifying on the No. 3 Captains of Crush® gripper is every grip guy's dream - it's a very tough thing to do, and the latest man to make the grade is Shedrick "Tex" Henderson, who not only closed the gripper, but in the way he did it, he also made grip-strength history.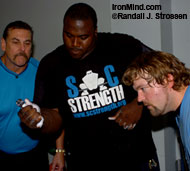 It was the perfect setting for another piece of grip(per) history: With Richard Sorin (left) and Jedd Johnson (right) looking on, Shedrick "Tex" Henderson destroys a brand new No. 3 Captains of Crush® Gripper. IronMind® | Randall J. Strossen, Ph.D. photo.
On Saturday, at Sorinex, with Richard Sorin looking on and Jedd Johnson refereeing, Shedrick "Tex" Henderson became the first man in the world to officially close a No. 3 Captains of Crush® Gripper straight from the package, eliminating any basis for speculating about the worthiness of his accomplishment.

Earlier this year, in response to increased stories about guys shopping around for the easiest old No. 3 they could find or cooking the spring, IronMind® presented a challenge to everyone who requested certification on the No. 3: We would send a brand new No. 3 Captains of Crush® Gripper directly to their referee and it would be opened on the spot for them to use for their official effort. This, of course, would eliminate any future attacks on the legitimacy of the person's accomplishment and it is parallel to what IronMind® has always done with its Red Nail™ certification, for exactly the same reasons.

Predictably, the guys who understand the legacy of this renowned certification and who like to look themselves and everyone else in the eye applauded this, but prior to Saturday, nobody had succeeded.

And that things worked out this way was probably for the best because what better place to have this happen that at Sorinex, with the Global Grip Challenge, as the context? Here it was, a meeting place that combined the best of the elder statesmen who got the balling rolling and the younger guys who are the future, and everyone was there to watch Tex take his shot at crushing myths and showing that in the end, as IronMind® has told people for years: There really is a secret to closing a No. 3 Captains of Crush® Gripper - you have to have really strong hands.

Randall Strossen asked Tex to warm up before taking his official attempt, and Tex went over to the table of grippers that had just been used in the 2006 Global Grip Challenge, picked one up and starting clicking out reps with it. "What is this" he asked Strossen, turning over the gripper. "It's a No. 3," Strossen said, in surprise. "That's a 3?!" Tex said, at which point we all knew that we had the real deal in front of us.

Strossen asked Richard Sorin to watch and Jedd Johnson to officiate, the new gripper was opened by Johnson, handed to Tex, and the official attempt was underway. "Is it closed?" Strossen asked Johnson. "He didn't close it," Johnson said. "He destroyed it!" And so he did.

Congratulations to Tex, for showing what you can do if you're just plain strong enough and many thanks to Will Millman for arranging for Tex to take this attempt, to the Diesel Crew and Sorinex for providing the perfect setting, and to Jedd Johnson and Richard Sorin for lending their eyes for this big performance.

Tex, you're the man and congratulations - it's official, you're certified on the No. 3 Captains of Crush Gripper, so carry your Captains of Crush® ID Card with pride.