Testing Program in Weightlifting is Working: The Deck is Shuffled Again
Once again, the rumor mill was working overtime, but now it's official that some positive results emerged from the doping controls at three recent weightlifting contests - each of which was an Olympic-qualifier: the European Championships, the Asian Championships, and the Pan American Championships.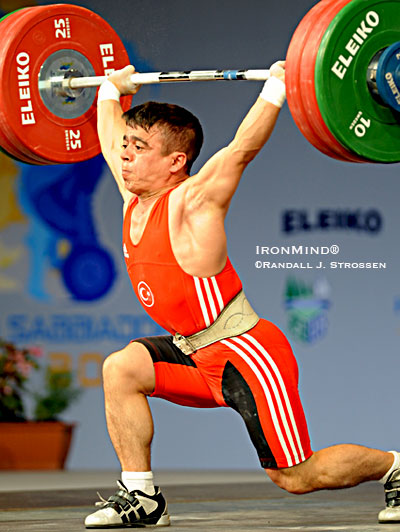 Halil Mutlu (Turkey) didn't have the easiest time making this 149-kg jerk at the 2008 European Weightlifting Championships, where he placed second to Igor Bour (Moldavia), but Bour was just disqualified and now Mutlu - a three-time Olympic gold medalist who will be looking for his fourth gold medal in Beijing - is the 2008 European Weightlifting champion in the 56-kg category. IronMind® | Randall J. Strossen photo.

At the Europeans, Olivera Juric (Bosnia and Herzegovina) was disqualified from the women's 75-kg class; for the men, it was Igor Bour (Moldavia), 56 kg; Vladimir Popov (Moldavia), 62 kg; and Artak Mkrtchyan (Armenia), +105 kg. At the Asian Championships, the following men were disqualified: Sarmad Idrees (Iraq), 77 kg; Ahmad Joughili (Syria), 94 kg; Mohammed Alaifuri (Iraq), 105 kg; and Ammar Rubaiaawi (Iraq), +105 kg. The following women were disqualified from the Pan American Championships: Yesenia Baldera (Dominican Republic), 48 kg; Leuzkis Farias (Venezuela), 69 kg; Vanessa Nunez (Venezuela), 69 kg; Claret Bellorin (Venezuela), 75 kg; and Andreia Silva (Brazil), 75 kg. For the men, it was Efrain De La Rosa (Dominican Republic), 56 kg; Victor Osorio (Chile), 105 kg; Yoel Sotolongo (Cuba), 105 kg; and Joel Makencie (Cuba), +105 kg.

The possibility of more disqualifications is assumed, but for these lifters, it's official, per IWF results.

The impact of these and pending tests is that the International Weightlifting Federation has issued a statement announcing that qualification for the upcoming Olympics is not yet finalized:

"Although the Qualification Events to the 2008 Beijing Games have already finished, there are still several anti-doping test results missing, because the laboratories are overloaded. Before all control analysis results and procedures are complete, the Olympic Qualification cannot be complete and final."

"Therefore, the IWF is now informing its members that the communication to the NOCs and National Federations of the quota obtained, as well as the individual qualification, will follow only after the conclusion of the anti-doping issues and subject to co-ordination with the International Olympic Committee."

Putting these positives in perspective, USAW Acting Executive Director Dennis Snethen told IronMind, "Weightlifting has a problem and it's being corrected. These results prove that our drug-testing program is working - we are making our sport fair for all the competitors, and that is what the Olympics is about. If it takes hard times to make things right, that's what it takes."

And when you talk positive drug results in international weightlifting competition, you won't find a single athlete from the USA this quadrennium, an enviable accomplishment that few countries can claim. "Why is this?" IronMind asked Snethen.

"We are fortunate to have USADA," Snethen said, referring the US Anti-Doping Agency. "When we travel internationally, we've already done our policing."