School might be out for the summer, but don't think this means no tests.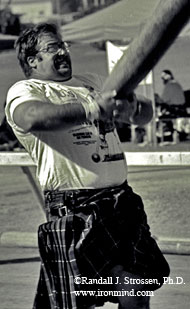 Sticks and stones . . . Steve "Inver Stone" Jeck lays into a caber back in '94 (Pleasanton, California). Welcome to Steve's classroom. IronMind® | Randall J. Strossen, Ph.D. photo.
We have just posted the latest in Steve Jeck's From The Quarry column, so stop by, listen up, and benefit.