Tesovic Prevails in the 105s
Strasbourg - If you just looked at the results and saw that Martin Tesovic (Slovakia) swept the gold medals in the 105-kg category at the European Weightlifting Championships today, you might get the wrong idea.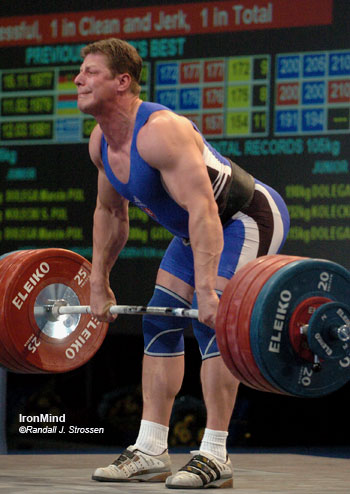 It wasn't easy, but Martin Tesovic took home all three gold medals in the 105-kg category at the European Weightlifting Championships today. IronMind® | Randall J. Strossen, Ph.D. photo.

The lead in this class was in the balance up through the final clean and jerk, and things wasted no time reaching this level of competitiveness, as first through fourth place in the snatch had a gap of merely two kilos, and even that understates how close things really were. Dmitry Lapikov (Russia), gold medalist in the snatch at the 2006 World Weightlifting Championships, took the final two attempts: Facing off with 189 kg on his second attempt, going for the gold medal, he was turned down two-to-one, so he qualified for Jim Schmitz's definition of a close miss. Repeating, he just couldn't quite lock out his left arm and the weight came crashing down, and what might have been first place in the snatch became fourth.

Coming into the clean and jerks, Tesovic certainly looked like the man to beat - he had the gold in the snatch and his opener in the clean and jerk, 220 kg, was the highest in the class and it looked solid.

Gleb Pisarevsky (Russia) only trailed Tesovic by one kilo after the snatch, though, and he wasn't going to roll over and play dead at this point, so he followed with a good lift with 221 on his second attempt - to take the lead in the jerk and the total from Tesovic. In another few attempts, Tesovic was back at the plate, this time facing 224, in an effort to retake the lead, but all he did was a deadlift . . . making things even more interesting. He came back and even though he looked a little shaky, he made a good lift with the 224.

Pisarevskiy must have have been thinking, "I've done this once, how come I have to do it again" and his idea of overtaking Tesovic again got crushed by 225 kg, when he couldn't rack the bar.

On the final attempt, going for the gold in the jerk and the total, Lapikov called for 227 (ten kilos over his second atttempt!). Following a strong clean, he punched the bar up, the lift looked good, but in a heartbreaker, the bar was drifting back and in the blink of an eye, it sailed over his head, and crashed to the platform.

Tesovic finished with 411, Pisarevskiy had 407 and Lapikov got 402.