Terry Hollands Wins England's Strongest Man
With big performances from some of the top name in professional strongman, England's Strongest Man contest had plenty of action.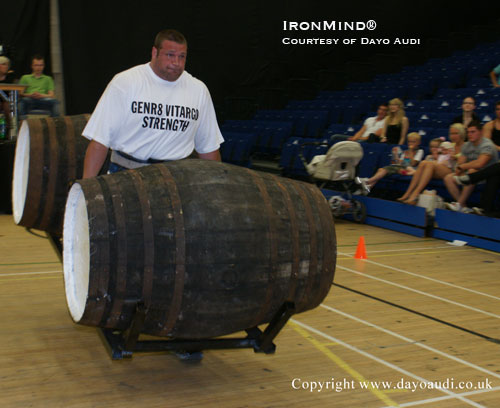 Terry Hollands, who won the 2009 England's Strongest Man contest, on the 320-kg Whiskey Barrel Carry. IronMind® | Photo courtesy of Dayo Audi.
Colin Bryce filed this report with IronMind®.

2009 England's Strongest Man
by Colin Bryce

The show was England's Strongest Man at the Doncaster Dome. Over 1,200 people turned up to watch the contest, which came down to the wire on the last event, the stones. Hollands came first, Mark Felix second, Darren Sadler third, and Mark Westaby fourth overall, with Rob Frampton of Portsmouth rounding out the top five. Hollands remarked that it was his consistency that proved to be crucial in the end. His weakest lift, shoulders, wasn't a problem as he nailed a 160-kg wooden log. Add that to his 8 reps with 320 kg in the deadlift and phenomenal stone lifting performance and he was just too good for the others on the day.

Darren Sadler, who has been out of competition for almost a year, was a big surprise. Leading until the last event, he looked in great shape if a little competition rusty. Also fans of the "Deadlift King" Mark Felix will be pleased to hear he mashed the deadlift with an easy 10 reps at 320 kg and did almost twice the time of anyone else in the car deadlift hold. The world champion in the Rolling Thunder is the man to beat in any form of grip strength.

"Watch out again for England's Strongest Man 2010 at the Doncaster Dome, with a projected date of February," said contest organiser Dayo Audi.