Terry Hollands Leads Strongman at LA FitExpo
Los Angeles – Terry Hollands capped off the first day of the strongman competition at the 2011 LA FitExpo with an impressive 1025-lb. deadlift to finish off the first day with a 5-point lead over Nick Best.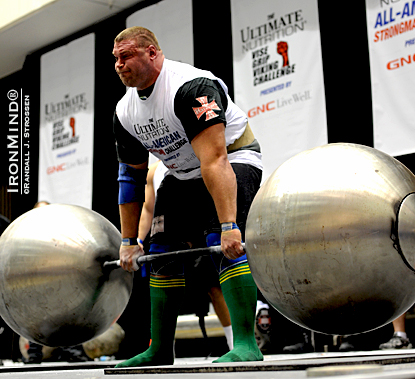 Terry Hollands pulls an easy 1025-lb. deadlift on the giant globe barbell at the LA FitExpo strongman contest. IronMind® | Randall J. Strossen photo.


Hollands has 64 points, followed by Best at 59 points and Mark Felix at 55 points. Felix is also the joint leader in the grip contest after the first day, sharing the top spot with Chad Woodall.

Andrew Durniat is in third place in the grip contest at this stage, 1.5 points behind the leaders and contest organizer Odd Haugen is in fourth, 1 point behind Durniat.

Both the strongman and grip contest continue today.

###


Want to talk strength or discuss this article? Join the IronMind Forum!

You can also follow IronMind on Twitter.