Teimouri Triumphs in the 105s
Gunsan, Korea - It wasn't as if he had to struggle to win the 105s, but that didn't take anything away from Reza Teimouri's (Iran) victory as his teammates were vocal in their support and his father - who looks like he could still lift a bull - watched with pride.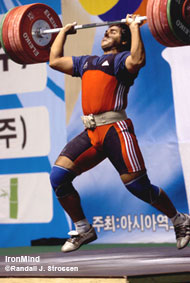 Reza Teimouri (Iran) flies under 200 kg as he won all three gold medals in the 105-kg category at the Asian Junior Weightlifting Championships in Gunsan, Korea. IronMind® | Randall J. Strossen, Ph.D. photo.
Teimouri, following himself, ran through 160, 165 and 168 in the snatch, and then he locked up the gold in the clean and jerk as well as in the total on first jerk, 191 kg. Taking 200 on his second attempt, he made another good lift, but 205 was a little too heavy on this day.

In the supers, Jung Jae-hoon (Korea) won, with 155/192.