Tearing Cards with John Brookfield
IronMind® received a question about how to rate performances in tearing cards and whenever this subject comes up, we can't help but think of John Brookfield.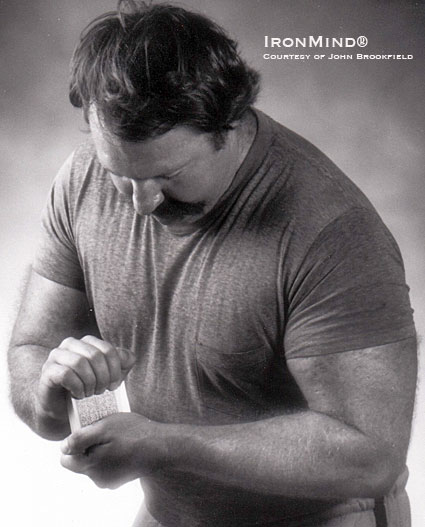 John Brookfield demonstrates his preferred positioning for tearing cards. IronMind® | Photo courtesy of John Brookfield; reprinted from MILO®, with permission.


Tearing cards is one of the most popular feats of lower arm strength and for good reason - it can defy some pretty strong guys if they've never tried it, but, at least at moderate levels, it is achievable by almost anyone who is reasonably strong. Plus, you can do it nearly anywhere and if you ignore the cost of training, the basic equipment is pretty cheap. As John Brookfield said, "It's accessible to everyone in the world . . . it's not like trying to sell a yacht."

If that's not enough, tearing cards is also super easy to learn how to do - speaking from personal experience, two minutes on the phone with John Brookfield would give you all the technical coaching you need and you'll be off and tearing, as long as you have the basic strength . . . John proved this to me almost 20 years ago.

John's basic advice is to think about opening a jar of peanut butter and we'll assume your right hand is on top. Next, push your hands toward each other a little (as if you are compressing the jar lightly) and then turn your top hand clockwise, being careful to go slowly at least until you develop the grip strength that will allow you to blast through a deck without losing control of the cards.

And talking about blasting through decks of cards, take a look at what John Brookfield has done in this realm - it will give you a new appreciation for what truly is a world-class performance when it comes to tearing cards:
http://www.youtube.com/watch?v=9oeFLUAPpns

http://www.youtube.com/watch?v=eoUrxbEJci4

If anyone else is approaching these levels, IronMind® would be interested in hearing from them. And in the meantime, if you want more details on how to do this, please check John Brookfield's MILO® article on the subject.