Team USA Heading to Mas Wrestling World Championships
Odd Haugen likes strength and he likes combat-oriented events, so it was a natural that he would latch onto Mas wrestling and become the lead person for its introduction and development in the US.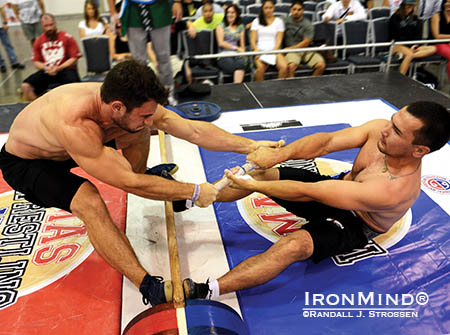 Sean Couch (left) gets launched by world champion Alexandr Arinkin at the North American Mas Wrestling Championships (held at the San Jose FitExpo earlier this summer). Couch will be a member of Team USA at the 2014 Mas Wrestling World Championships in Yakutsk, Russia in November. IronMind® | Randall J. Strossen photo



Haugen has been so successful at winning and developing converts to this longstanding traditional test of strength in cultures across the world that now he is "trying to raise funds to offset some of the cost of sending Team USA to Yakutsk, Republic of Sakha, Russia, for the the first official World Championship, to be held in late November.

"We have assembled a team of 7 athletes based on their performance at the North American MAS Wrestling Championship held in San Jose in July:

Martins Licis (-125kg), Jacob Finerty (+125kg), Clay Edgin (+125kg), Shawn Paul Couch (-90kg), Danielle Curry (+85kg), Liefia Ingalls (-75kg), and Malina Lord (-55kg).

"The travel from Moscow to Yakutsk (a 7-8 hour flight) and the Teams stay in Yakutsk for the Championship is covered by the International MAS Wrestling Federation (IMWF) and the Organizing Committee, but we are responsible for the cost of getting the Team to Moscow. We anticipate this will cost about $10,000 of which half has been pledged by our very generous sponsor 6 Pack™ Fitness. IronMind News readers can donate by clicking of the this link.
"
MAS wrestling's roots can be traced back hundreds of years to the Russian Republic of Sakha. In a country that loves all manner of sport, it gained popularity because it did not require specialized equipment and showcased a young Yakut's strength, courage, and determination. This sport has maintained its legacy into the 21st century as a true method of testing a combatant's fortitude and is currently contested in arenas all over the world," said Haugen.

###



Want to talk strength? Join the IronMind Forum.

You can also follow IronMind on Twitter and on Facebook.