Tatiana Kashirina: World Record Performance
Kazan, Russia—Whatever sizzle the men's superheavyweight class lacked in the mass moved department, Tatiana Kashirina (Russia) more than made up for on the women's side.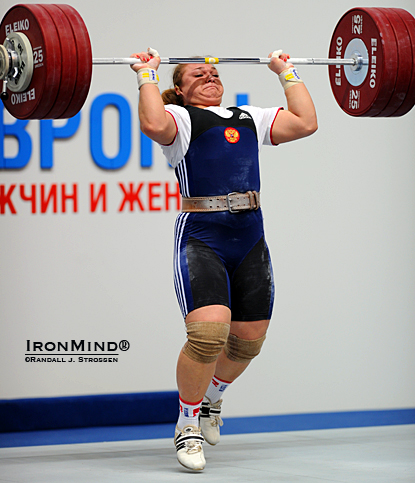 On her way to completing a 181-kg clean and jerk, Tatiana Kashirina drives her body under the bar, splitting her feet front and back. Kashirina broke two world records in the womens' superheavyweight (+75 kg) category. IronMind® | Randall J. Strossen photo.


Like her teammate Khadjimourad Akkaev, who won the men's 105-kg competition, Kashirina, already a player on the world stage, had ramped up her game for the 2011 European Weightlifting Championships.

Starting after the rest of lifters in her class had used all of their attempts in the snatch, Kashirina sailed through three well-oiled successes: 137 kg, 142 kg and 146 kg, with the last being a new world record.

Putting on the same sort of clinic in the clean and jerk, Kashirinia, nailed three more good lifts: 170 kg, 177 kg and 181 kg, with the final lift of her six-for-six show giving her a new world record in the total.

Although Kashirina had already made a big name for herself in the snatch, she lagged behind the very top women on the clean and jerk—easy to understand since she gives up approximately 20 kg of body weight to Jang Mi Ran (Korea) and Meng Suping (China), for example.

This performance signals that Kashirina is bridging that gap, regardless of what she weighs, as the 181-kg success marks an 11-kg improvement over her performance at the 2010 World Weightlifting Championships, where she was first in the snatch, but only third in the clean and jerk.

Added to her world record snatch, Kashirina's 181-kg clean and jerk gave her a world record in the total—the only two world records from the competition.

Kashirina's performance on Super Sunday was a fitting way to cap off a contest that reflected world class organization and warm hospitality at every turn—the city of Kazan, the Republic of Tatarstan and the nation of Russia did themselves proud.
Spasiba!

###

IronMind Forum: talk strength, discuss this story. Strongman, grip, Highland Games, Olympic lifting, stones and more.

You can also follow IronMind on Twitter.