Tarmo Mitt Wins Asian World Cup Strongman
Estonian strongman Tarmo Mitt won last weekend's Asian World Cup strongman contest, the first stage of Vlad Redkin's 2011 Asia World Cup strongman series.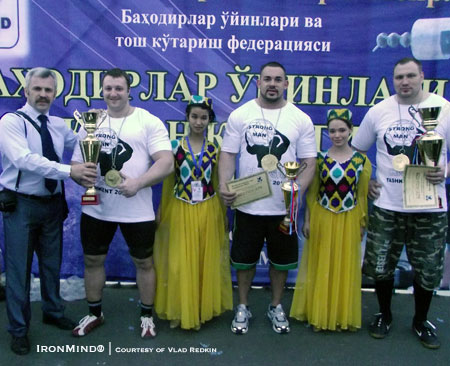 (left to right) Vlad Redkin presents the second place trophy to Alex Lapirev (Belatus). Kevin Nee (USA) was third and Tarmo Mitt (Estonia) won the first stage of the Asia World Cup strongman series in Uzbekistan. IronMind® | Courtesy of Vlad Redkin.


"All was good, fine weather . . . +23C [73F]," Redkin told IronMind; and in addition to adding another victory to Tarmo Mitt's collection, the contest marked American strongman Kevin Nee's return to competition and rewarded him with a podium finish.

When I saw Kevin Nee's name on the official start list, this reporter contacted Kevin to see if he was really headed to Uzbekistan, since it's a longer, less traveled trip than say, merely going to Moscow.

"Yea it's true," Kevin replied. "I'm in Uzebekistan right now and wow it's been a scary and wild ride so far! It took 42 hours of traveling to get here and I got here at 5 a.m. and the competition is at 2 p.m. Hahahaha this is gonna be rough!"

"After 39–41 hours of travel. Getting my passport held ransom for not having enough money to pay for visa, having to do a deal it seemed like haha to get my passport back, my ride not showing up for hours and being stranded at the airport until 5 a.m., getting 3 hours of sleep, being told the comp got moved from the next day to today at 2 p.m.

But don't think that colorful start meant there was anything but a happy ending to the story:

"I still got 3rd place [on countback] and that's even with two really bad mess ups and no food! I really could have won this thing! I'm coming back! Not bad for my first comp back and I'm not even 90% right now! Give me two more months 'til I'm ready to run with the big dogs again!"

Here are the official results:
| | |
| --- | --- |
| 1. | Tarmo Mitt (Estonia) |
| 2. | Alex Lapirev (Belarus) |
| 3-5. | Kevin Nee (USA) |
| 3-5. | Adam Darash (Hungary) |
| 3-5. | Sergey Trubicin (Uzbekistan) |
| 6. | Iskander Maminbekov (Kazakhstan) |
*Kevin Nee awarded third place on countback.


And the future also looks bright for his latest strongman series Vlad Redkin told IronMind, with a return to Uzbekistan planned for August.
###



Want to comment on this article or just want to talk strength? Join the IronMind Forum!

You can also follow IronMind on Twitter.