Santo Domingo - Weightlifting without Taner Sagir (Turkey) isn't quite the same, so it was nice to see him back in competition tonight, where although not perfect, he won the men's 77-kg title at the World Championships.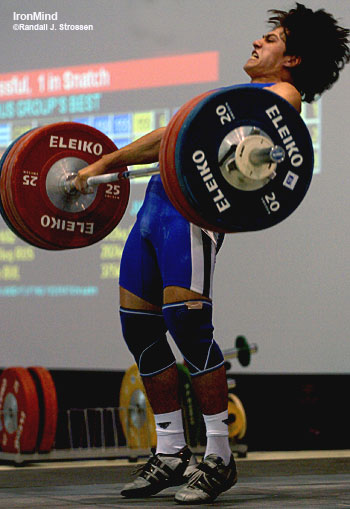 Taner Sagir ran through three good snatches, ending up with this 166-kg lift as he won the men's 77-kg category at the World Weightlifting Championships this afternoon in Santo Domingo. IronMind® | Randall J. Strossen, Ph.D. photo.
Oleg Perepechenov (Russia) always rips the bar up with no problem - it's just that sometimes it comes down almost as fast, and that's how things went for him tonight in the snatch . . . there was smoke coming off his three attempts with 160, but each came back to earth with a bang, so that left Li Hongli (China), Ara Khachatryan (Armenia) and Taner Sagir to sort out the medals. Both Sagir and Khachatryan hit all their lifts, with Sagir ending up with 166 and Khachatryan finishing with 165. Li Hongli, always a top snatcher, hit 163 and 167, before missing 170, sending it up and over his head.

Li Hongli's lead going into the clean and jerk shouldn't have been cause for alarm in the Turkish camp because he routinely easily cleans whatever weight he is taking, and then either shakes like a leaf on the jerk, or just misses it.

Tonight, he shook like a leaf but hung on for a good lift with 192, but 197 was too much on his second and third attempts. Sagir wasn't having the easiest time either, though, as he missed the jerk on his 195-kg opener, came back to make it on his second attempt, and as it turned out it was all he needed, and all he took, to win the gold medal in the total.

Another guy who did well on just two attempts in the clean and jerk was Perepechenov, who took 190 and 198, with the latter being good for the gold in the jerk, and it was a very easy lift, but then, he holds the world record at 210 kg. Khachatryan, who seems very tall for this class is a power jerker, but on his third attempt, 197 drove him into a full squat; he held the bar overhead, but could not stand up with it.

Qui Hongmei (China) won the women's 58-kg category; after having snatched 107, she tried a 135-kg clean and jerk on her third attempt, which would have been good for a new world record in the total, but she missed the jerk.