Taner Sagir: Roars to Easy Win at the Europeans
Sofia, Bulgaria - 2004 Olympic gold medalist Taner Sagir (Turkey) didn't have much trouble winning the men's 77-kg class at the European Weightlifting Championships today, but that didn't keep him from roaring along the way.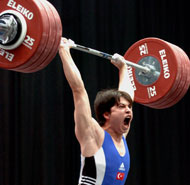 Taner Sagir (Turkey) roars his approval as he made an easy 192.5-kg first attempt clean and jerk, winning all three gold medals in the 77-kg category at the European Weightlifting Championships today. IronMind® | Randall J. Strossen, Ph.D. photo.

With Bulgarian Ivan Stoitzov and Turk Taner Sagir lifting in this class, the crowd left no doubt about who they favored - Stoitsov was greeted with tremendous ovations and he lifted with the competition hall so quiet that you could have heard a pin drop. Sagir, on the other hand, was booed, and in the middle of his lifts, the vocal Bulgarian fans imitated his trademark roars,

But that wasn't close to enough to tip the balance because Sagir ran away with the win, only needing one clean and jerk to complete his sweep.

Sagir ended the evening with four attempts, four good lifts and three gold medals, finishing with 167.5/192.5. The silver medal in the total went to Sebastian Dogariu (Romania), who hit 160/187.5 and the bronze went to the crowd's favorite, Ivan Stoitzov, who snatched 155 kg and cleaned and jerked 190 kg.