Szymon Kolecki Undergoing Surgery
In the hope of resolving the back problems that have hampered his weightlifting career, Polish phenom Szymon Kolecki is scheduled to have back surgery this week.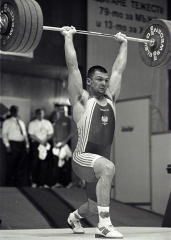 Nailing another one of his trademark clean and jerks, Szymon Kolecki hit this 232.5 kg world record (junior and senior) in the 94-kg category at the 2000 European Weightlifting Championships (Sofia, Bulgaria). IronMind® | Randall J. Strossen, Ph.D. photo.
Kolecki, whose lifting resumé includes world records and medals from the World Championships and the Olympics, has had a frustrating series of back problems in the last several years, holding back his weightlifting career. Adding to the challenges faced by this extremely talented and likeable lifter, Kolecki received a provisional suspension from the Polish Weightlifting Federation for a positive drug result shortly before the Athens Olympics; Kolecki was subsequently exonerated and reinstated.

Szymon Kolecki is a rare talent in weightlifting and his many fans around the world are pulling for his successful return to competition.