Szymon Kolecki: Three Golds
Strasbourg - Woe to his competitors when Szymon Kolecki (Poland) leads after the snatch - that was the case in the men's 94-kg category today at the European Weightlifting Championships, and in another hour, Kolecki had three gold medals hanging around his neck.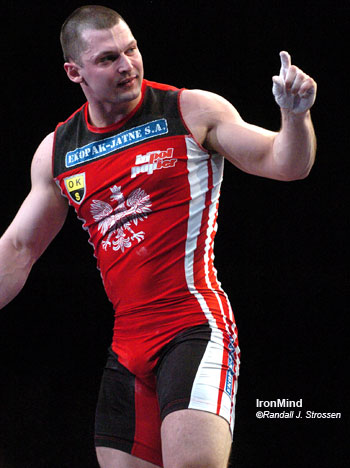 How close was his miss with 181 kg on his third attempt snatch? After the bar sailed over his head, Szymon Kolecki turned toward his coach and showed him. Kolecki won all three gold medals in the 94-kg category at the European Weightlifting Championships tonight. IronMind® | Randall J. Strossen, Ph.D. photo.
While Kolecki was expected to be the big gun in this class, the snatch can be a challenge for him; but not tonight, as he made 173 and 177, and with the gold secured, he had a very close miss, up and over, with 181 kg on the last attempt of the category. Roman Konstantinov (Russia) made 170 and 176, before missing 180 kg - his 176 was good for the silver medal in the snatch. Evgheni Bratan (Moldavia) got the bronze in the snatch with 173.

Special mention must go to Nikolaos Kourtidis (Greece), who had 175 locked out overhead on his third attempt, but maybe due to recovering too quickly, he lost the lift and what followed was at least as dramatic as anything that had happened on the platform: When Kourtides missed this lift, Greek coach Christos Iakovou felt no need to hide his feelings, and while my Greek isn't perfect, by reading his lips, it was apparent that Christos wished Nikolaos a slow, painful death and cursed his family for three generations, in a speech that was punctuated with plenty of gestures and reinforced with ample body language.

Clean and jerks are in the Kingdom of Kolecki, so while the others fought it out for first place behind him, Kolecki waited. Bronze in the jerk went to Kostyantyn Piliyev (Ukraine) who polished off his opener, 205, with a deep power jerk. He went a little deeper with 211, and on 213, it was a full squat jerk - each of his attempts was smooth and powerful. Konstantinov missed the jerk on his opener, 210. On his second attempt, repeating with the weight, he chased the clean to about two feet from the front edge of the platform, but he stood there, cooly, and jerked the weight solidly for a good lift. In an effort to leapfrog over Kolecki, who was in gold medal position in the jerk and the total after his opening clean and jerk, 216 kg, Konstantinov jumped seven kilos on his third attempt, a huge increase in these 1-kg days. Konstantinov made a tremendous lift with this weight - he walked all over the platform, rotating, as he fought to save the jerk, which he did at the edge of the platform . . . once again, he never blinked and he got the job done.

On his second attempt, Kolecki took the 218 he needed to regain first and first, making what can only be described as an easy lift. If there were a downside to Kolecki's performance, it would be that some wish he'd been pushed a bit more so that he'd uncork a clean and jerk in the 230-kg range.

Following Kolecki's 395, Konstantinov totaled 393 and Evgheni Bratan hit 382.