Oz Strongman's Chris Andrews told IronMind®, "We are having our next big comp on June 28th which will be 'Sydney's Strongest Man.'"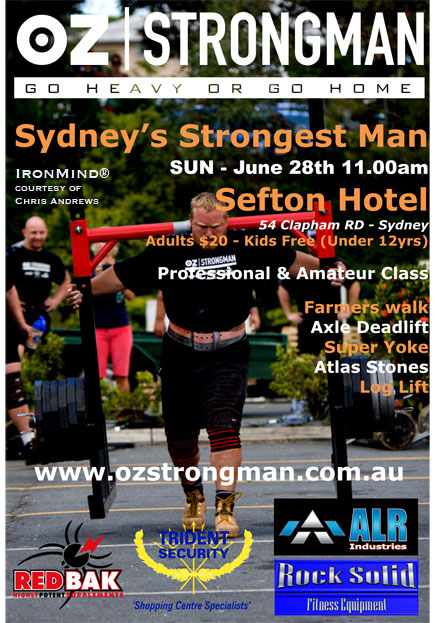 Sydney's Strongest Man contest will be held on June 28. IronMind® | Artwork courtesy of Chris Andrews.

"We have around 38 athletes competing in light [under 90 kg], middle [under 105 kg] and heavy [+105 kg] weights in the amateur class, plus an all-star lineup in the pros [where] we are very lucky to have Rauno Heinla, 'Estonia's Strongest Man,' competing along side our top athletes: Alan 'The Monster' Kliese and our two top athletes from New Zealand, Jono MacFarlane and Nick Hansen. This will be one serious battle," said Andrews.

The events for the pro class are:

Apollon's Wheel-Axle Deadlift - 300 kg
Atlas Stone for reps – 170 kg
Farmer's Walk – 160 kg
Log Lift for reps - 125 kg
Super Yoke – 355 kg

The prize list consists of the OZ Strongman Trophy, Andrews told IronMind®.