Switzerland Joins the International Highland Games Federation (IHGF)
"It really is amazing to see the growth of Highland games this past few years and all the countries that are affiliating with the IHGF," Francis Brebner told IronMind as Switzerland became the latest country to join the ranks of the International Highland Games Federation.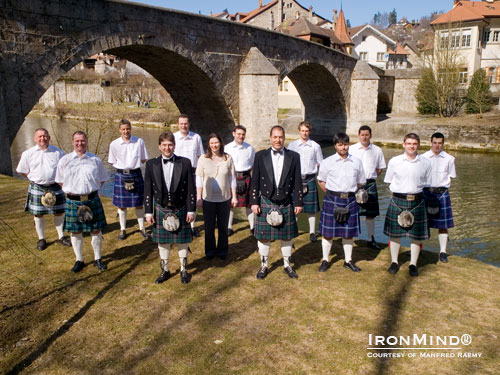 The organizing committe for the Swiss affiliate of the International Highland Games Federation (left to right): Werner Stulz, Norbert Esseiva, Stefan Nigg, Manfred Raemy, Jochen Vonlanthen, Myriam Raemy-Grossrieder, Raphael Burger, Silvio Stritt, Stefan Piller, Albert Studer, Yves Dietrich, André Auderset, Alain Imhof. IronMind® | Courtesy of Manfred Raemy.


Recognizing this affiliation, Manfred Raemy, president of the Swiss Highland Games Association, has been made the official IHGF representative for Switzerland, Brebner said.

Brebner quoted Manfred Raemy as saying, "We believe that being affiliated with the international governing body of the Highland Games will be a major step to make our own Highland Games here in Switzerland more widely known and better.


"It has been only eight years since we first started to organize the Highland Games here in Switzerland and the Games have been growing at an increasing rate over this short period of time. Already for this year's 9th Highland Games Swiss Championships, which is to be held on the 26–28 August, we have received twenty five applications and expect a lot more.

"In the past we have not quite been able to accommodate all of the throwing disciplines into the program, but we plan to change this as soon as possible to include this for all future events and incorporate all the IHGF rules and regulations.

"We are very happy to become an affiliated member of the IHGF and will be looking at the possibility of being a part next year's 2012 IHGF European Series which would be a great honor to us as our Games Organizing Committee here is very committed and motivated to progressively make our Highland Games one of the best in Europe."

 ###



The IronMind Forum: discuss this article, talk strength, get help with your training.

You can also follow IronMind on Twitter.