Swedish Grand Prix: The Events
We have just received official word on the events for the forthcoming Swedish Grand Prix and strongman fans are in for some surprises.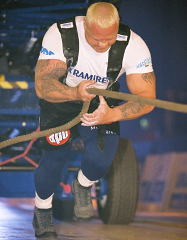 World's Strongest Man winner Svend "Viking Power" Karlsen lays into the truck pull at the 2003 Vantaa Grand Prix (Vantaa, Finland). IronMind® | Randall J. Strossen, Ph.D. photo.
Six events have been selected:

1. Tire flip (500 kg)
2. Bench press (200 kg for reps)
3. Stones (five stones, ranging from 125 to 185 kg)
4. Farmer's walk (160 kg each hand)
5. Vertical lift (170 kg, lifted up about two meters, for reps)
6. Conan's wheel

Ulf Bengtsson, World Class president, said that his goal is to create strongman events in the best interest of all the stakeholders and he noted that the Swedish Grand Prix provides an exceptional opportunity for Scandinavian strongman fans to see the top competitors in the full splendor of a live contest.