Svend Karlsen: World's Strongest Man, Viking Power Challenge, 400-kg Deadlift
Svend "Viking" Karlsen told IronMind® that he deadlifted 320 kg the other day - surprising himself - and even though it's only for fun now, Viking said his training is the center of his life as he juggles World's Strongest Man, Norway's Strongest Man, Viking Power Challenge and several other projects.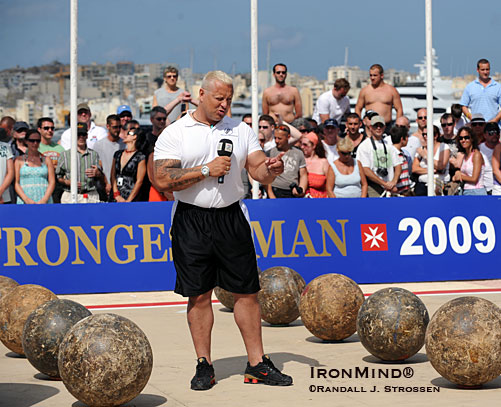 On the set of the 2009 World's Strongest Man (WSM) contest, Svend Karlsen wields a mighty microphone - doing background for the Norwegian broadcast of WSM '09. IronMind® | Randall J. Strossen photo.

Karlsen said that the 2010 edition of his Norway's Strongest Man contest is scheduled for May 15 and that it will be returning to the same location as last year. And just as last year, when his Viking Power Challenge (VPC) was part of Giants Live (the official qualifying tour for the World's Strongest Man contest), VPC will once again be a big show this year.

"We will be going back to the mountains," Viking said. The logistics are easier to manage when things are centralized, Karlsen explained, and besides, "That is where Vikings should be." VPC is scheduled for June 26 this year.

And then there is his work on the 2009 World's Strongest Man contest, preparing the programs for broadcast on Norwegian TV, where Karlsen combines his intimate knowledge of the event (he's the 2001 World's Strongest Man winner) with added showmanship from the man who, after doing an impromptu Elvis imitation, once told yours truly, "Never give me a microphone."

His top priority is raising his son, Viking said, and, after that, somewhat surprisingly since he only trains for personal satisfaction now, working out is an essential part of his day.

Viking said, "I need to have training as the center of my life. It is more important than work . . . it helps me get more work done."

And how's he doing in the gym?

How about a 320-kg deadlift with not too much training? And a 170-kg close grip bench press and 50-kg x 8 in the alternate dumbbell curl? Not enough for you? Viking said that he hopes to deadlift 320 kg x 4, then 340 kg x 4 . . . on his way to 400 kg x 1 this summer.

If you want some more numbers, Viking said he's weighing about 145 kg at the moment and since he reached his goal of having 55 cm (almost 22 in.) arms by Christmas, he is confident about reaching his deadlift goal as well.


Busy guy, Viking is, so stay tuned for updates because in addition to working on the Viking Power clothing line, Svend Karlsen might also be offering a personal training training service via email/phone.