Svend Karlsen & Norway's Strongest Man: "It's An Exciting Time in Strongman!"
With a top field ready to fight for the title of Norway's Strongest Man (NSM), it's perfect that Arild "The World's Strongest Boxer" Haugen is the head referee.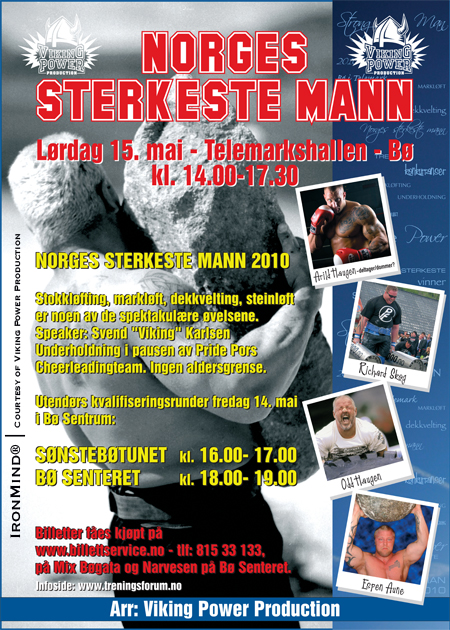 Who will be the next Viking? Svend Karlsen said that's the bigger mission when Norway's Strongest Man kicks off this weekend. IronMind® | Randall J. Strossen photo/artwork courtesy of Viking Power Production.


Arild Haugen was picked as the successor to Mariusz Pudzianowski, a man so blazingly fast on the Atlas Stones that ace strongman commentator Colin Bryce dubbed Arild Haugen, "Emperor of the Stones." Looking for greener pastures, though, Arild switched to boxing, but he stays in touch with his friends in the strongman world, and as proof of that, he's the main man with a whistle this weekend.

NSM organizer Svend "Viking" Karlsen won the 2001 World's Strongest Man contest and he remains highly visible and popular in the strongman world.

Reflecting on how the sport has evolved, Viking told IronMind®, "The level is starting to escalate. Strongman competitors used to come from other sports, and they would just do strongman. Now, some are just strongman competitors, so the level is going to be higher and higher."

Still, don't be too quick to dismiss the early giants in strongman, because Viking added, "The raw power has not changed so much from the days of Kaz [three-time World's Strongest Man winner Bill Kazmaier]. They don't lift more than they did then. It's better technique, better at moving . . . ."

Seeing this as the best of both worlds, Viking concluded, "It's an exciting time in strongman!"

###

Want to discuss this article? Join the IronMind® Forum!

You can also follow IronMind® on Twitter.