Svend Karlsen: Kidney Failure, But No Problem
It's congenital and he told IronMind® that he thought he had a few more years left in them, but Svend "Viking" Karlsen's kidneys failed, so he was hospitalized, put on dialysis and now he is awaiting a transplant.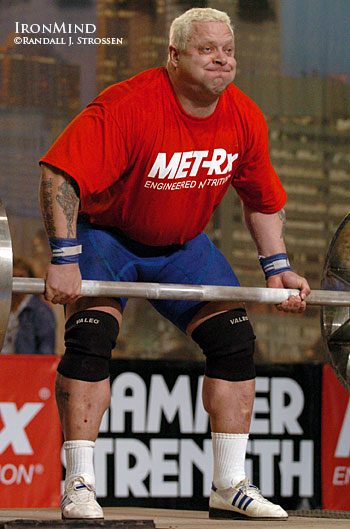 Svend "Viking" Karlsen attacks the axle at the 2004 Arnold strongman contest. His kidneys have failed, but Viking sounds great, said he feels well, and he already has three donors lined up, offering him a kidney. IronMind® | Randall J. Strossen, Ph.D. photo.
Sounds grim, but if you talked to Svend, you'd think he was just having another day.

"It's nothing," he said. "I knew it was coming, so it is a relief."

Explaining how ill he got just before he was hospitalized - "throwing up and terrible headaches" - Svend said now that the dialysis has cleaned him out, he feels terrific. "Some friends warned me, 'Now you will get skinny,' but I gained three kilos," Svend said, reporting his current body weight at a Viking-like 133 kg.

Svend is scheduled for a kidney transplant some time between the end of February and the middle of July, and since one of the people who has offered a kidney is Lene, his wife, Svend said that Norway's Strongest Man and the Viking Power Challenge would have to be held before the surgery, since both he and wife would be recovering for about four weeks if Lene is the donor.

So, for right now, it's dialysis three times a week, and the positive attitude that makes Svend Karlsen say, "The Viking will be back, stronger than ever."