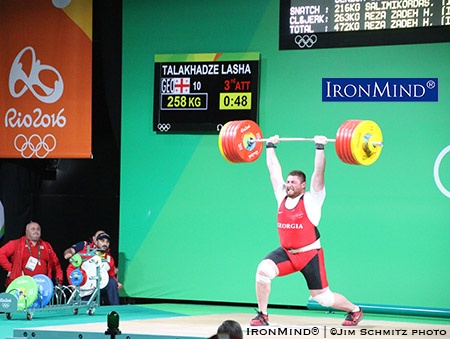 Weightlifting competition ended in Rio with super performances in the men's +105 kg class, where Lasha Talakhadze picked up where he left off at 2016 European Weightlifting Championships and firmly established himself as the new king of the jungle.


Rio Report: Men's +105 kg Weightlifting
by Jim Schmitz
What a way to finish the 2016 Olympics Weightlifting, 3 world records: first Georgia's Lasha Talakhadze, 22 year old 157.34 bodyweight snatched the world record 215, but then Iran's 2012 Olympic champion, Behdad Salimi, 27 years and 169.79 bodyweight snatched 216 for a new world record.





Then Salimi cleaned and jerked 245 but was turned down 2 to 1. He took it again and got 3 white lights from the referees, but got 5 red lights for press out from the Jury who has ultimate control and the 245 is overturned. 



On his 3rd attempt he missed the clean—he looked tired. Even if Salimi had made the 245, I'm pretty sure it wouldn't have been enough and that he could have kept up with Lasha who was making all his lifts with room to spare and set a world total of 473, breaking Iran's Hossein Reza Zadeh's set in the 2000 Sidney Olympics.



On to Tokyo, 2020.
                                                            ###



Follow IronMind on Twitter and on Facebook.


Want to talk strength? Visit the IronMind Forum: Strongman, grip, Highland Games, Olympic lifting, stones and more.