Super Series at the Garden: Official Athlete List
Everyone knows about Mariusz Pudzianowski, Derek Poundstone and Travis Ortmayer coming to Madison Square Garden's WaMu theater for the Super Series Grand Prix, but how about the rest of the field?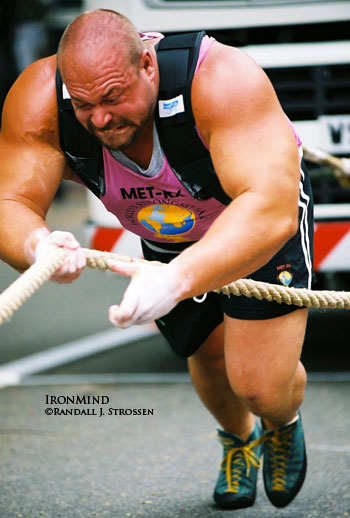 Hugo Girard fans will be happy to know that their man is set to compete in the WaMu Theater at Madison Square Garden when the Super Series comes to New York City on June 21. IronMind® | Randall J. Strossen photo.

Here it is, officially:

1. Mariusz Pudzianowski
2. Derek Poundstone
3. Magnus Samuelsson
4. Travis Ortmayer
5. Hugo Girard
6. Terry Hollands
7. Kevin Nee
8. Mark Philippi
9. David Ostlund
10. Jarek Dymek
11. Brian Shaw

"A second athlete from Britain is to be confirmed," WSM Super Series Managing Director Jesper Albansson told IronMind®, and the referees are Jouko Ahola and Odd Haugen.