Super Series Brings Strongman to Madison Square Garden: CBS The Early Show Kicks Things Off
New York City - Super Series is raising the bar in strongman, bringing some of the top names in the professional strongman world to the WaMu Theater at Madison Square on Saturday night, June 21, and this morning things started on Fifth Avenue at Central Park as CBS The Early Show covered the action.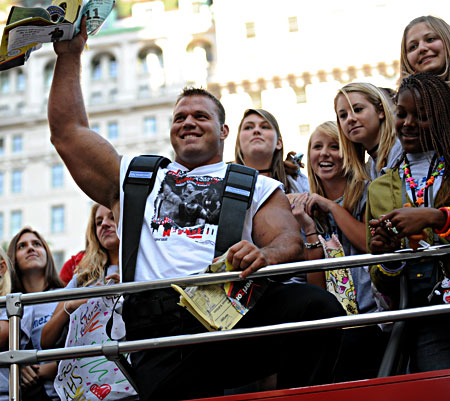 Derek Poundstone, one of the favorites for Saturday's Super Series strongman contest at the Garden, wowed the crowd on Fifth Avenue this morning. IronMind® | Randall J. Strossen photo.


With Mariusz Pudzianowski, Jarek Dymek and Phil Pfister jumping on a double-decker bus loaded with screaming young ladies, Derek Poundstone lit up the Fifth Avenue crowd by tearing a phone book and then pulling the bus.

Tickets for Saturday's contest are available from the Madison Square Garden box office, all Ticketmaster outlets, and online at www.thegarden.com.

At 11:00 this morning, there will be more great pre-contest events, including another bus pull, in front of Madison Square Garden, on 7th Avenue, between 32nd and 31st Streets.