Super Finish: Ruslan Albegov Wins
Wroclaw, Poland—It was a super finish at the 2013 World Weightlifting Championships: with one lift remaining in the +105 kg category, Ruslan Albegov was in gold medal position on the total, but Bahador Moulaei (Iran) called for the 261 kg that would push him past the Russian lifter.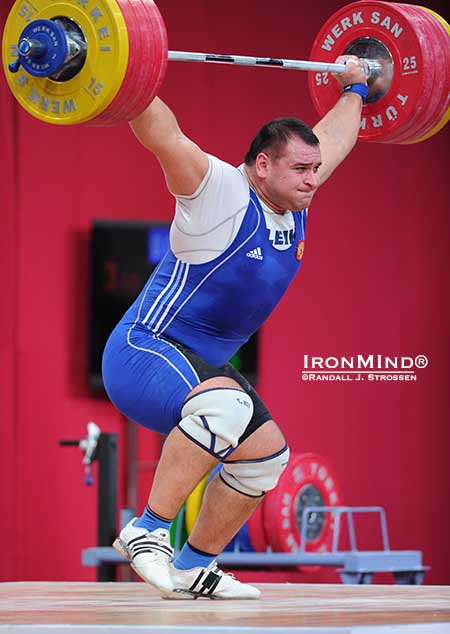 The go-ahead lift: turned out that this 209-kg snatch gave Ruslan Albegov the margin he needed for victory over a hard charging Bahador Moulaei. Albegov got the weight overhead strongly, but then had to take two quick steps forward to save the lift as he stood up. IronMind® | Randall J. Strossen photo


Backing up, Moulaei made three good snatches, to end with 203, and Albegov also went three for three, but he finished with 209 kg.

The Russians knew that Moulaei could uncork a huge clean and jerk, so even with this lead, nobody assumed the gold medal in the total was going home with Albegov.

Moulaei opened with 241 kg on his first clean and jerk, for a good lift, and Albegov, who was heavier, replied with a good 242-kg opener. Moulaei didn't waste any time now: he jumped to 255 kg for another good lift. Albegov took the same weight and looked strong, but then he dropped the jerk—throwing the door wide open for Moulaei—but he bounced made, made a good lift, and could nothing but wait and see what the Iranian lifter did with the last attempt of the competition.

Moulaei already had the gold medal in the jerk, but he wanted the same for the total, so he called for 261 kg.

He cleaned the weight powerfully and rammed it overhead for what was looking like a good lift about to be polished off, but as he was recovering, the bar came crashing down.

###



Visit the IronMind Forum: talk strength, discuss this story. Strongman, grip, Highland Games, Olympic lifting, stones and more.

You can also follow IronMind on Twitter and on Facebook.