Sun-gil Gwon and Dae Woong Lee Certify on the IronMind Red Nail
In an impressive double, Sun-gil Gwon and Dae Woong Lee have just been certified on the IronMind Red Nail, continuing the recent trend of Korean short steel benders proving their mastery of this feat, which goes back to grip master John Brookfield doing it in a very conservative style in 1995.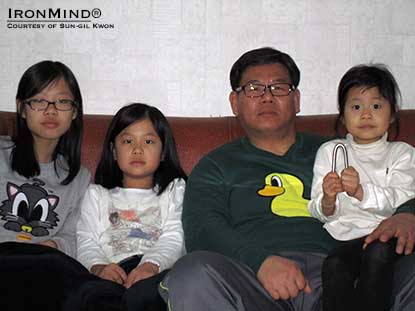 "Look at what my dad can do?" Sun-gil Gwon's daughter holds up the IronMind Red nail that her father officially bent. IronMind® | Photo courtesy of Sun-gil Gwon.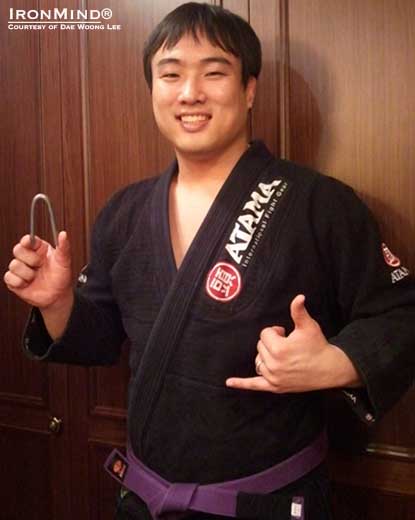 Brazilian Jiu-Jitsu, dental implant surgery and short steel bending—Dae Woong Lee, just certified on the IronMind Red Nail, is comfortable, and competent, in all three spheres. IronMind® | Photo courtesy of Dae Woong Lee.


40-year old Sun-gil Gwon (who stands 180 cm tall and weighs 106 kg) started bending nails in 2008: "My friend sent me [IronMind] Yellow, Green and White nails, and I was able to bend the White and Green Nails the first time I attempted [them]."

Presently, Sun-gil Gwon said he trains "bending twice a week. I usually bend a few weak nails for warming up, and then I bend the Red Nails."

Bending is a hobby for Sun-gil Gwon who modestly describes himself as an office worker. "My interestes are the Bible, family, and physical training. I like training with kettlebells, bending and my goal is to be part of the Red Nail Roster."

Also succeeding with his official attempt to bend an IronMind Red Nail was 32-year old Dae Woong Lee, a 182 cm, 102-kg dentist who specializes in implant surgery and also practices Brazilian Jiu-Jitsu.

"I bend about 2 times a week. I first warm up for about 5 minutes doing push-ups and squats to raise my body temperature and I stretch my shoulders, neck, back, elbows, wrists before bending my warm-up nail" and a typical recent bending workout would progress to bending "2 or 3 Red Nails according to the official rules," Dae Woong Lee told IronMind.

How does this strength transfer to work and play for the latest man to officially bend an IronMind Red Nail?

"I'm a dentist so sometimes lower arm/wrist strength helps out al little bit when I extract teeth. My hobby is Brazilian Jiu-Jitsu and lower arm/wrist strength is very important for gi and wrist control."

Many thanks to Peter Kim for doing such a meticulous job refereeing this double attempt at officially bending the IronMind Red Nail, and congratulations to Sunj-gil Gwon and Dae Woong Lee—your names have been added to the Red Nail Roster.

###

The IronMind Forum: discuss this article, talk strength, get help with your training.

You can also follow IronMind on Twitter.