Sumo in Southern California
"It's that time of year again, when the resonating THUD of huge men in 'mawashis' signals the arrival of spring," said USA Sumo's Matt Anderson.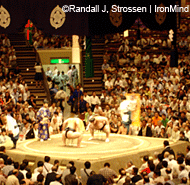 Whether or not you have had the good fortune of attending one of sumo's Grand Tournaments, such as this one in Tokyo, don't think sumo, Southern California and spring don't mix. IronMind® | Randall J. Strossen, Ph.D. photo.

The fourth annual U.S. Sumo Open will take place at the Los Angeles Convention Center April 9.

"For hundreds of years, the strongest men/samurai from rival villages would decide battles based on their performance inside the dojo," Anderson said, adding that this year, teams representing Norway, Germany, Mongolia, Bulgaria will be competing with the best in the United States. For further information, please visit the USA Sumo website.