Strongwoman vs. Strongman in Europe
Mixing things up, strongwoman is taking on strongman in Europe, top strongwoman competitor and organizer Anett von der Weppen told IronMind.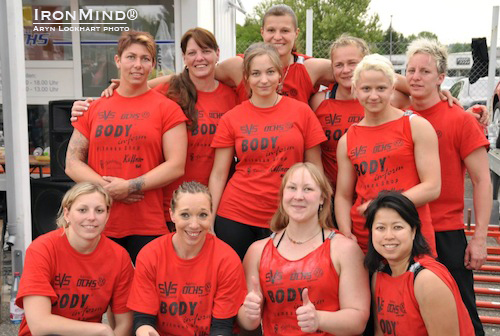 Here's the field from the strongwoman contest held Öhringen, Germany on May 19. IronMind® | Photo courtesy of Aryn Lockhart.


Besides featuring two weight classes, the recent strongwoman contest held in Öhringen, Germany had an interesting twist in the last event, the tire flip.

As the +75 kg overall winner Anett von der Weppen described it, "The last event was Wheel Flip against the men. The last places woman from the first 3 events against the last man. The Wheel from the women had a weight 170 kg and the men's wheel was much heavier. That was a very great idea and interesting to watch."

Building on that concept, the upcoming German Strongwoman Championships will use the following format:

• Yoke Race: 260 kg /men; 160 kg/women
• Farmer's Walk: 110 kg/men; 70 kg/women
• Apollon's Axle: 100 kg/men; 55 kg/women
• Car Hold: 290 kg/men; 165 kg/ women


###

The IronMind Forum: discuss this article, talk strength, get help with your training.

You can also follow IronMind on Twitter.