Strongwoman Showdown: Aneta Florczyk vs. Marina "The Armor" Kigileva
On August 21, the Russian city of Chelyabinsk will be the site of "a battle between two strong women . . . Aneta Florczyk and Marina "The Armor" Kigileva," reported Sergey Klimakov.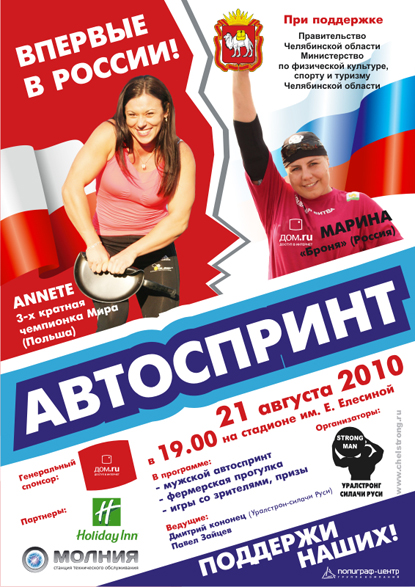 Russia's Uralstrong Federation is holding a strongwoman contest pitting Aneta Florczyk (Poland) against Marina Kigileva (Russia). IronMind® | Courtesy of Uralstrong Federation.


Dmitry Kononets, head of the Uralstrong Federation said, "We know nothing about coming international strongwoman contests, so we took the initiative ourselves. We want to quickly check our Marina in serious competition."

Here are the events:

Mini-Bus Pull (1.5 - 2 tons, 33 meters)
Farmer's Walk: 2 x 70 kg for maximum distance

Florczyk has the women's world record in the latter event, Kononets said, at 150 meters, and he calls her a "a real Ms. All in strongwoman" competition.

"However, Marina Kigileva is not a dark horse," Klimakov said. "The girl from Uralstrong Federation earlier pulled an agricultural harvester and rail locomotive (175 tons). She won many times in the women's tournaments in Russia," including Rolling Thunder competitions.

"The organizers believe that the battle Florczyk vs. Kigileva has special significance for the development of strongwoman [contests] in Russia," Klimakov said. "This duel will give it a new impetus."




Want to talk strength? Join the IronMind® Forum!

You can also follow IronMind® on Twitter.