Strongmen Broke Guinness World Records in Beijing
Strongman Champions League (SCL) continues to rewrite the Guinness World Record book as Laurence Shahlaei took on and beat the farmer's walk record set by Zydrunas Savickas earlier this year.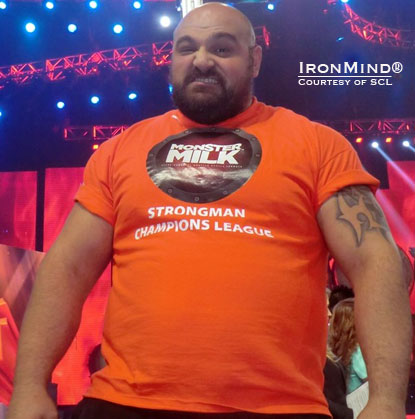 You would grimace too if you had 150 kg hanging from each hand and you had to cover 20 meters as quickly as possible. IronMind® | Courtesy of SCL.

"Ilkka [Kinnunen] and I just returned from China, where we did again the Guinness Record show in Beijing," SCL's Marcel Mostert reported to IronMind.

"Laurence [Shahlaei] broke the record set by Zydrunas [Savickas] in Italy earlier this year in the farmer's walk: two suitcases with a weight of 150 kg each over a distance of 20 meters was done by Laurence in an astonishing time of 6.71 seconds. Laurence was very happy with this record.

"He also tried to beat the record for the highest beer keg toss by a man – clean over the bar. He touched the bar but couldn't get it over after three tries.
 The new German strongman Benjamin Hedermann did succeed in it and threw a beer keg of 12.3 kg clean over the bar at the height of 7.30 meters.

"The Chinese people liked the events very much and the show will be broadcast at the Chinese New Year.

"We will be back next year on the Guinness show with new events and hopefully [more] records!"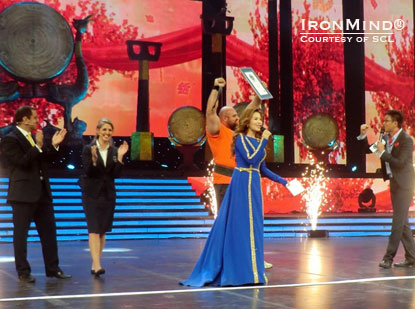 Laurence Shahlaei celebrates his victory at the Guiness World in Beijing. IronMind® | Courtesy of SCL.

###

The IronMind Forum: discuss this article, talk strength, get help with your training.

You can also follow IronMind on Twitter.