Strongman in 2009 . . . New Federation Being Developed . . . Great Future Predicted for Iran
It's not widely known in the strongman world, but in late November 2008, five-time World's Strongest Man winner Mariusz Pudzianowski was one of a dozen competitors in a strongman contest held in Iran that was something of a test run for a new strongman federation . . . and the results got two thumbs up from the principals.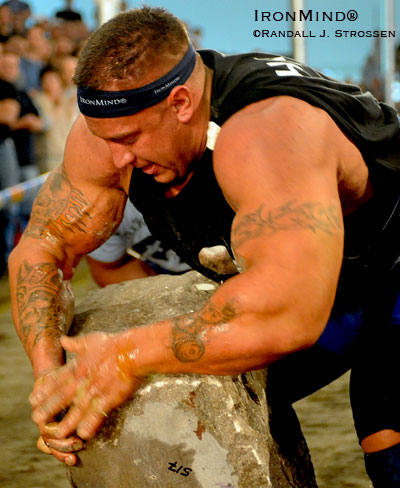 Things were a little rocky for Arild Haugen (Norway) at Fortissimus 2008, but Arild came back as a force to be reckoned with at the 2008 MET-Rx World's Strongest Man contest, where head referee Colin Bryce dubbed him "Emperor of the Stones" based on his dazzling performances. IronMind® | Randall J. Strossen photo.


Iran might have received a harsh review in the strongman world when a 2007 contest in Kish Island did not go according to plans, and there is some feeling that strongman politics might have used local politics as a smokescreen and a scapegoat in that situation, but the most important thing now is that no matter what might have gone awry then, that did not deter a new group of organizers from trying again - and this time, things had a very different outcome.

How about US$10,000 paid to the winner, Stoyan Todorchev (Bulgaria), who edged out Mariusz Pudzianowski. Second place paid US$8,000 and third place, shared by Rohollah Dadashi (Iran) and Nadhali Esmaeili (Iran), paid US$6,000.

Wojtek Witkowski, who works closely with Mariusz Pudzianowski, told IronMind® that two of the key qualities he would like to see in strongman are 1) an honorarium or start money paid to all competitors and 2) significantly increased prize money.

Witkowski said that the lack of prize money is really hurting strongman, and he cited the exodus of Arild Haugen as a prime example, saying that he thought it was a particular shame that Haugen opted to leave strongman for boxing because the financial opportunities in boxing were so much greater, especially because he saw Arild Haugen as being a future superstar in strongman.

Next, Witkowski said, he and his colleagues will be looking for other contest organizers to collaborate with, and while he is open to working around the world, "Iran, this part of Asia, and Eastern Europe have great potential for the future of strongman."