Strongman and Grip Strength Featured at the Los Angeles FitExpo
The 2011 Los Angeles FitExpo will be welcoming, "25 world class strength athletes representing three Continents in the two contests, the All American Strongman Challenge and the Visegrip Viking Challenge," this weekend—no wonder Odd Haugen calls for, "Sparks to fly and records to fall!"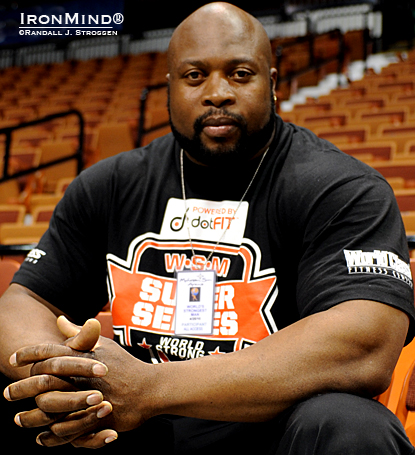 Where horsepower and hand power meet: top strongman Mark Felix is also the world record holder in a benchmark test of grip strength: the Rolling Thunder. Felix is one of the marquee names who will be competing at the FitExpo in Los Angeles this weekend. IronMind® | Randall J. Strossen photo.


With the likes of Brian Shaw, Mark Felix, Nick Best and Terry Hollands hitting town, Los Angeles is going to bulge at the seams and the rumblings might register on the Richter scale as some of the world's top strongman competitors hit the pavement running. Haugen is also bringing another dimension of the strength world to the FitExp as he presents what grip strength aficionado Mike Corlett calls, "The best grip [strength] competition in history. Let me repeat that: the best in history!"

Showcasing the top talent he's bringing to town, Haugen told IronMind today, "Some of the most notable are Brian Shaw and Mark Felix (UK) in the Visegrip Viking Challenge, defending champion Nick Best and Terry Hollands (UK) in the All American Strongman Challenge."

Just to place these guys in context, all four are World's Strongest Man competitors and Mark Felix holds the world record on the Rolling Thunder. And in terms of sheer mass, being 6' 2" (1.90 m) and 300 lb. (137 kg) would make you a little guy in this crowd. Remember, these are the guys you see pull full-sized planes for the fun of it.

As a bonus, don't forget that you can save $5 on your ticket by printing out this IronMind coupon.

See you in LA on Saturday.
###


Want to comment on this article or just want to talk strength? Join the IronMind Forum!

You can also follow IronMind on Twitter.