Strongman Turned Boxer: Arild Haugen Has Third Pro Fight Tomorrow
"Just wanted to say hello and give you a little update," Arild "Hulk" Haugen told IronMind® today, as the strongman known as "Emperor of the Stones" highlighted what's next for him in his new career as a professional boxer.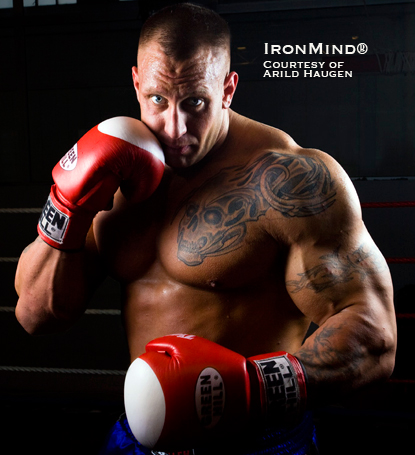 Fast, fit and powerful - former World's Strongest Man competitor Arild Haugen has transferred his skills from the strongman circuit to the boxing ring. IronMind® | Courtesy of Arild Haugen.


"Tomorrow I am having my third professional fight," said Haugen. Noting that a lot has happened since his last fight, Haugen said, "I am improving every day. I find boxing fantastic and there's a lot of opportunity out there. I have now hired a private TV crew which is called filmavdelingen. They are making a documentary about my boxing career plus they are shooting my next 8 fights live. If anybody would like to see the fight live they can go in on http://www.vgtv.no/?id=29443&category=3 or you can also watch on arildhaugen.com."

Saying that his boxing career is his top priority now, Haugen also said his days in the strength world are not over.

"For those who wonder out there, yes I can still deadlift and squat. And I haven't done my last competition as a strongman."

Talking strongman, Arild "Hulk" Haugen told IronMind®, "The Norway's Strongest Man this year is gonna be awesome . . . [featuring] a lot of new up-and-coming Vikings like Espen Aune, Bjorn Andre Solvang, Ole Martin Hansen, Lars Rørbakken, and of course Richard Skog."

Arild Haugen himself plans to make more than a social appearance in strongman this year, telling IronMind®: "I hope to maybe do one competition for fun this year, nothing serious."

With all due respect, serious is a relative term - it's hard to imagine Haugen doing anything at half-throttle.