Strongman Training: Yard Mates Make Good
"Monday's UK Strongman North event in Cheshire, England . . . [was won by] Colin Jones, who trains with at the yard with [Mark] Felix," Denny Felix reported to IronMind—explaining that her husband, Mark Felix, "won for the past two years but didn't compete this year."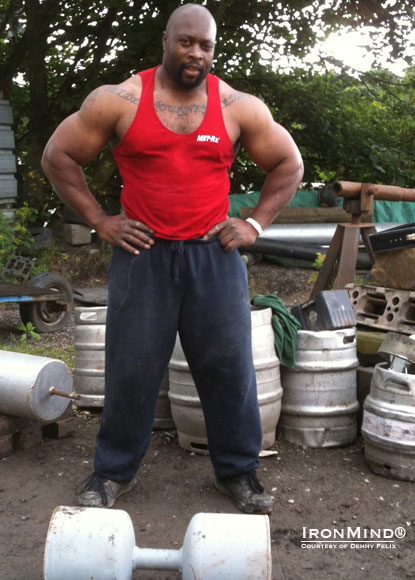 Mark Felix and his yard, where the strong guys come to play. IronMind® | Courtesy of Denny Felix.


"Another training partner Jack McIntosh (who was part of the crew at last years World's Strongest Man contest and [will be] a competitor at this years World's) won The Renegades of Strength competition in Ireland last weekend," Denny Felix continued.

So, I had to ask for more about this yard, and just who comes over to play.

"'The Yard' is an area that is secure that Fe [Mark Felix] has been able to have the use of since 2005, when he started to build up his [strongman] kit: Atlas stones of every weight, car deadlift, axle deadlift, various kinds of farmer's [walk implements], logs, Conan's circle, loading, keg toss, yoke, IronMind sacks, wheelbarrow, sleds, anvils, trucks available for pulling with an IronMind harness, circus dumbells . . . almost everything you could ask for. The only downfall [is that] it's outdoors so they have to deal with the elements during all seasons. There's many a video on YouTube on the markfelixtv channel filmed down there.

"Jack McIntosh and Colin Jones have been training there for the past 12 months, amongst other names," said Denny Felix.

And speaking of the man himself, Mark Felix, IronMind heard that "he's very focused and is more than happy with his events." Incidentally, cheer for Mark Felix not just for his own sake, but because we have it from an inside source that if he does well, guess who was promised "a solo shopping trip to NY"?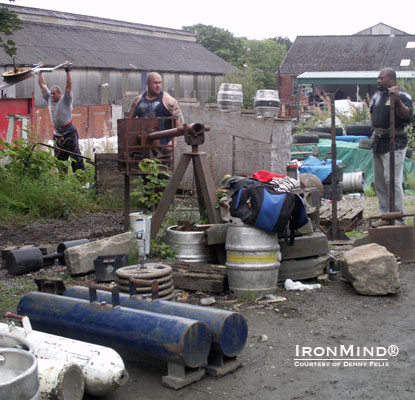 "Welcome to the yard," said Denny Felix. "There's no way of making it any more attractive (believe me, I've tried). But for those who know what they are looking at, it's Strongman Paradise." IronMind® | Courtesy of Denny Felix.

###

The IronMind Forum: discuss this article, talk strength, get help with your training.

You can also follow IronMind on Twitter.