Strongman Thriving Down Under
Under the leadership of Bill Lyndon, president of the Federation of Australian Strength Competitors (FASC), "Australia is sending signals to the rest of the world that the sport is alive and well Down Under."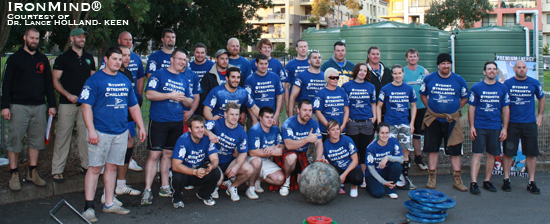 The Future of Strongman is a hot topic on the IronMind® Forum and Australia's Bill Lyndon, who is leading the charge in Australia, reports that strongman is alive and well Down Under. IronMind® | Photo courtesy of Dr. Lance Holland-Keen.


"This past weekend, two independent strongman promoters, Sydney's Camden/Five Dock and Western Australia's Strongman Society, staged two separate events 5,000 km apart, with 70 athletes taking part," Bill Lyndon reported to IronMind®.

"All athletes were at amateur status, which even included a women's class (with five competitors including a mother and daughter placing first and second, respectively)." Lyndon said he saw this as proof positive that "people at all levels want to touch this sport."

Both of these contests were sanctioned by the FASC, whose primary responsibility, Lyndon explained, was to put "an athletic director in place to oversee all the functions of the event including the safety, implementation of rules and guidelines, and most importantly, documenting all state and national strongman records."

Lyndon was quick to acknowledge that he is "following the lead of the American model, headed by Dione Wessels and NAS/ASC. Australia is very happy to show all nations that strongman can come together at the grassroots level of the sport and provide the education and the support in putting the best athletes forward at the international level.

"It was a great weekend for all and a fine display of strength athletics by all participants with the highlight of the strength bonanza [being] a new Australian record by Sue Metcalf, who managed to load a 113 kg (248.6 lb) stone to a height of 95 cm.

"All athletes are excited in the buildup via our newly championed Amateur Strongman League which will culminate in the staging of the Australian Amateur Strongman Championships; which will be held at the famous Australian tourist attraction, Kryal Castle, on Australia Day early next year," Lyndon told IronMind®.



Want to talk strength? Join the IronMind® Forum!

You can also follow IronMind® on Twitter.